Be Late for School! 上学迟到了!
Be Late for School! 上学迟到了!
英语学习点: School Vocabulary 与学校相关的词语
Drriinnggg! That's the sound kids up and down the country do not want to hear – the alarm bell.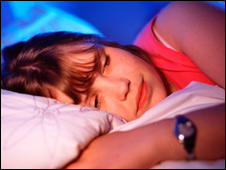 The school year has just started and children across the UK have to wake up bright and early to go to school.
But students at one school in north-east England can lie in for an extra hour before they go to school.
Monkseaton High School has been allowing its pupils to come into school an hour later than other schools.
The headmaster, Dr Paul Kelley, says that this approach helps students pay more attention in class.
He feels that young people are more productive later on in the day and that a late start may be better for their school career than an early one.
Dr Kelley told the BBC that "teenagers don't function very well in the morning and their need to sleep is biological."
It seems that this novel approach to teaching shows positive results. The school has already seen a drop in the number of pupils playing truant by 27%.
More importantly, Dr Kelley also said that exam results have improved by 20-30% over the past year.
Lessons at Monkseaton High School begin at 10am and finish at 3.40pm; however, the school opens from 8am to 5pm.
Glossary 词汇表 (收听发音, 请单击英语单词)