Future of TV 未来的电视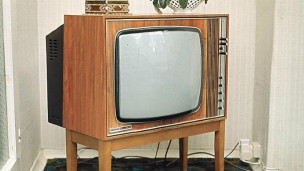 Vocabulary: Technology 词汇: 技术
I've worked in the media for over ten years. I love films, documentaries and all kinds of TV programmes. So, you might be surprised to learn that, in all that time, I never actually owned a telly.
Why not? For the simple reason that these days it's just so easy to stream media on your laptop whenever you want. I can watch programmes in bed, in the cafe, or even while cooking!
But, recently I got tired of the small screen and tinny sound. So last month I decided to get myself a proper, state-of-the-art TV.
And I was in for a pleasant shock. Having a 40-inch, full HD screen with crystal clear sound there in the comfort of my living room really blew me away. And as I flicked through the controls, I found that my smart TV was loaded with apps and could even browse the web. I patted myself on the back and felt very pleased with my new piece of kit.
But this morning, as I looked through the technology stories online, I read a headline which burst my bubble: "Giant rollable TVs on the horizon".
"Rollable" TVs? Yes, a paper-thin TV screen that you can roll into a 3cm diameter tube has just been announced by LG, apparently.
While I was wondering why I might possibly need one of those, I clicked through to a page saying Samsung had developed a 'bendy' TV. At the touch of a button you can "adjust the curvature of the screen", said the article.
So, TVs are soon going to be available in all shapes and sizes. Whatever next? And just when I'd got my head around the idea of HD, it turns out that the format might soon be outdated. The next big thing will be 4K TV – which promises a picture quality four times higher than normal HD. Though to be honest, I think having images that clear and realistic might be a little disconcerting, especially if you're watching a horror movie!
Anyway, for now I'm still very happy with my nice new TV. It's so much better than straining my eyes watching my laptop. And I don't really care if it doesn't roll up and fit in my pocket. Though I do sometimes miss watching programmes in the kitchen!