By Raymond Zhou

There is a joke going around among China's journalists, especially those who cover culture and entertainment.
While Ang Lee's new movie Lust, Caution is the talk of the literati town, Eileen Chang's (1920-95) original short story is also getting a lot of attention. A big-league publisher has come out with a new edition. (I can never understand how a story of such limited length can fill up a whole volume, but hey, "Who Moved My Cheese" has even fewer words. Who said, "Brevity is the soul of wit"?)
The publisher's publicist's cellphone has been ringing off the hook. Here are three reimaginings of the dialogue:
Reporter A: Could you arrange an interview for me with Eileen Chang?
Publicist: Well this could be difficult
Reporter A: Please! Even a telephone interview will do.
Publicist: That could be hard, too.
Reporter A: (Expletive), a porno writer is too big for her boot? We tabloids will boycott her.
Reporter B: I would like to interview Eileen Chang.
Publicist: Well, the place she lives now is not accessible.
Reporter B: But the telecommunication companies say their signals can reach everywhere, even the top of the highest mountain.
Publicist: But she is dead.
Reporter B: Great! That could make an exciting headline: Eileen Chang died from anger because Ang Lee scandalized her work.
Reporter C: I want an interview with Eileen Chang.
Publicist: Fax me a list of questions, and I'll burn the paper to the next world for you.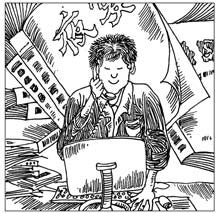 The above scenarios may be exaggerated, but there is a true story behind it. The real sad story is, this particular reporter is considered "jingye". It literally means "professional", but I believe "hard-working" is a more accurate English word.
You see, reporters who cover the entertainment beat tend to resort to fiction writing. This is especially rampant among the small-league titles. A reporter who instantly thinks of interviewing a news-making subject is at least better than one who is only good at CTRL-C CTRL-V or using a figment of his imagination.
No matter how well read one is, an individual's knowledge base is limited. You cannot know everything under the sun. But there are certain requirements for a professional - if a journalist can still be called a professional. For a Chinese reporter who writes about Chinese culture, some essential information about Eileen Chang is mandatory. But then again, Eileen Chang is probably not taught in school. Her literary stature has not yet been enshrined by the mainland's ivory tower.
The embarrassment would have been averted if said reporter had done a little Baiduing. A quick browse of the Eileen Chang entry would have easily yielded a condensed biography of her life and work. He could also have searched for her writing and got a few samples to read. It is not easy to talk to a writer without ever reading her work, is it?
This reminds me of the time when I was a little kid and jobs were filled by something called "dingti", which means the son would take over the father's job. That was supposed to lower unemployment, I suppose. I heard a story about one young man who had no medical training whatsoever but whose father happened to be a doctor. On his first day as his father's "successor", he ran around the hospital asking people to give injections for him. If you were not the patient, this could be the funniest scene you can conjure up.
I wish that era is way behind us.
Email: raymondzhou@chinadaily.com.cn
(China Daily 10/27/2007 page4)