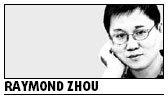 There's one scene in Hollywood disaster movies I've always hated: Oblivious to death and chaos all around and at great peril to himself and others, the hero jumps to the rescue of his own pet.
It must have been a nice touch of humanitarianism when it was first depicted on the big screen.
But by the end of the millennium, it had become so trite it was an inevitable laughing stock.
That is why no disaster movie, however well crafted, can hold a candle to real-life events.
In the Sichuan earthquake, pets were not just the objects of rescue.
In a few cases, they were the heroes who saved people.
The story of Wang Youqiong, a 61-year-old caught in a landslide in the mountains, is a case in point.
After her lower body was stuck under giant rocks, she survived on raindrops and the help of two dogs for eight days.
They licked her face clean to provide her with much needed moisture on her parched lips.
They also barked vigorously whenever they sensed human movement nearby.
Eventually they were able to attract rescuers.
That was 196 hours after the May 12 quake, which may have claimed 80,000 lives.
In a Beichuan police station, a pug-dog dragged 43-year-old Li Guolin out of a fourth-floor room when the quake hit.
Another dog was a "professional rescuer", not a pet.
We know only the name of his breeder, a soldier surnamed Li.
Li's "best friend" worked for several days and helped locate 35 survivors.
But in one search for survivors, he was crushed to death when a building collapsed.
Li was heard crying into the night.
Of course, more common were soldiers who snatched pets out of danger's way.
That gives rise to a moral dilemma: Should humans save animals - pets and livestock - in the wake of such a mammoth natural disaster?
Opinions differ: Some say pets offer priceless companionship and therefore justify extra effort to save them, while others resent the sacrifice of soldiers to save "stupid animals".
There is no doubt that saving human lives has been the top priority - and rightly so. For those who take it for granted, there was a time when we held the value of some property - a building, a log - above human life.
It sounds callous to calculate what is more valuable because there has been a fundamental shift in evaluating human life in the past three decades.
We now have more respect for human lives regardless of demographics.
To some animal lovers, pets are just as valuable as human lives.
It's not something we should measure with money. The laughter and companionship a pet brings are something you can never quantify with a purchase price. You give a pet love, and it requites - it's a magical bond.
I believe it's wonderful that rescuers have dug out pets trapped in rubble, but I don't think a soldier or volunteer should risk his life to do it.
If a little extra effort can bring out a pet alive, then why not?
Both Aesop and Liu Bei of ancient China said: "No act of kindness, no matter how small, is ever wasted".
It is reported that people have adopted stray dogs and cats in the disaster zone and given them a new home, or temporary shelter in the event their owners come to retrieve them.
Well, for one, I won't wince at the screen heroes retrieving pets any more.
Email: raymondzhou@chinadaily.com.cn
                                                                                           (China Daily 05/31/2008 page4)