Just when I thought the Fan Meizhong story had wound down to a simmering denouement, the curtain has been raised again to feature Act II. The teacher who left his pupils behind in a notorious sprint from an earthquake-shaken classroom has made his television debut.
More surprisingly, he came out the good guy - or more accurately, the better guy. Phoenix TV pitched him against a "morality fighter" who condemned Fan outright. And netizens basically voted that between cowardice and hypocrisy they deemed the former a lesser sin.
If we see the earthquake response as a big picture, China's netizens have been playing the role of morality fighter. It is their favorite role.
Their dominant strategy is to shame celebrities into donating "an appropriate amount". Sports superstar Yao Ming originally doled out 2 million yuan, creating an endless ripple of negative comments. Now, Yao has followed up with $2 million. But the damage is done.
A few days after the quake, someone compiled an online list of "parsimonious" multinational corporations whose donations were not commensurate with their earnings in China. The digital world whipped up a backlash: See how these people are making money from us and now turn a blind eye to our suffering?
It turned out the list was erroneous on many counts. These companies had given huge sums to the earthquake relief, said the Ministry of Commerce, who belatedly publicized a correct and complete list.
The online morality army does not seem to realize that charity is not like tax. It is something you do - not because you have to, but because you want to. A business may have cash flow constraints; a public company may have a limit as to how much it can donate. Charity should not be a burden on the financial health of a business.
The last sentence is a paraphrase of what a real estate developer said. The real estate tycoon before the May 12 quake, has essentially destroyed his aura with one blog post. But I agree with him that we should not pressure businesses into giving more than what they are comfortable with. Only when they make good profits can they keep paying taxes and possibly give back to the society in ways and amounts they see fit.
A businessman's remark that natural disasters happen in a vast country like China. That is true, too. But a natural disaster of this enormity happened only once in 30 years. To brush it aside in such an imperial manner is not showing proper respect to the victims. Besides, he did not have the right to limit his employees' donation to the ridiculous and almost insulting 10 yuan per person. How much they gave was their business.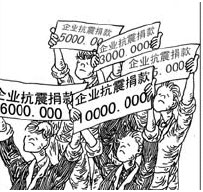 But when people stop to do business with his company, his board has made a decision to donate 100 million yuan.
Obviously, this was not from their hearts, but a business move at damage control. It mars our corporate culture to turn a beautiful feeling of humanitarianism into competition (how much your rival is pledging) and a publicity stunt (using donation as corporate promotion).
Charity is about doing good. It is not about giving the largest amount when the media spotlight is on you. It is about sincerity and it should be long-lasting.
Back to "Run Fan Run". It was what he said more than what he did that was offensive. But from the aggressiveness with which he justified his act, I somehow felt that he was not comfortable with his "bolting act". The right to free expression does not preclude stupidity of expression from destroying your image.
Email: raymondzhou@chinadaily.com.cn
(China Daily 06/14/2008 page4)