By Raymond Zhou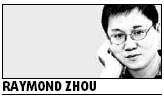 Early this month, while on an assignment in Hohhot, I was taken on a tour of Mengniu and Yili, two of the most prominent businesses in Inner Mongolia. I was so impressed by what I saw that I called my wife right there in a corridor overlooking the assembly line.
"All the facilities are imported from Germany or Sweden. The place is fully automated and immaculate. We have to wear shoe covers even though there is a glass partition between where we stand and where all the production takes place. Every batch of milk is tested so that germs are expunged," I told her.
My wife has always hesitated when buying domestically made food products. Though I've never been inside a foreign dairy company, I firmly believed it wouldn't be much different from what I saw at Mengniu and Yili.
"You can rest assured the dairy products from these producers are top-notch in quality and just as safe as the imports you insist on," I told her.
I was not shocked when the Sanlu scandal broke out. There are bad apples in every industry and every locality, I figured. Besides, common sense tells me there is no quality to speak of for something priced as low as 16 yuan a can.
I was shaken to the core when melamine was found in the baby formula produced by 22 companies, including Mengniu and Yili. My instinct was: Could melamine be one of the unclean ingredients that come with raw milk, the so-called "germs" that Mengniu and Yili bought expensive machines to get rid of? No, I was told, it was something deliberately added to the milk.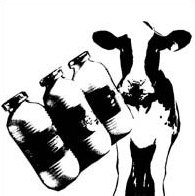 Despite extensive coverage of the incident, most of the fundamental questions are still gnawing at me: Adding melamine to bump up the protein content does not seem to be an isolated incident. How widespread is it in the industry? You cannot really pass the buck totally to the farmers.
Certain people inside the dairy producers must be aware of the practice and could have been bribed into acquiescence, if not doing it themselves. And you cannot blame the machines for failing to detect the industrial chemical, either.
If it was the act of a few desperados in key positions, it implies that management is so inept they don't even know the cost structure of their products. If they are accomplices, how come not all of their products were found to be contaminated? And how come many of the smaller companies came out clean while the brand names were guilty? Maybe the smaller ones were not qualified for "exemption from testing", which nipped the fake protein idea in the bud.
I can understand why managements at the affected companies have been so eager to admit negligence. It is the less of two evils - the other being aiding and abetting a criminal act, which brings a much stiffer penalty.
Now they have vowed to offer only unsoiled products.
To most Chinese this sounds like a joke. A pledge from a culpable business is like one from a naughty kid who says he'll not lie again. We cannot rely on the moral character of one CEO or one company. There has to be a quality control mechanism so that businesses are not tempted with get-rich-quick schemes that harm public interest.
I don't pretend to know the technical complexity of testing food products. If it's not feasible to test every thing put on store shelves, can authorities do random inspections unannounced, and without the requisite dining, wining and giftgiving routine?
Look at how our culture watchdogs check and double-check every movie, TV show, book, song, etc. Give the same attention to our food, and no one in the food industry will ever think of adding anything toxic.
E-mail: raymondzhou@chinadaily.com.cn
(China Daily 09/27/2008 page4)