By Raymond Zhou
Song Zude is a one-man tabloid. In his Sina.com blog, he has been making statements so outrageous it's a wonder nobody has sent an assassin his way.
Well, until now. A SARFT (government agency in charge of movies and television) official announced they would "get rid of him". But how?
In name, Song heads a production company. I guess its products will automatically be banned. But I haven't heard of any movies or TV shows produced by his company. Surely, SARFT won't resort to illegal means. That leaves the option of a lawsuit.
Song's latest barrage was targeted at Xie Jin and Bruce Lee. When venerable filmmaker Xie died last week, Song reported he had exclusive news that the 85-year-old Xie died of exhaustion while making love to a hooker that night. As for Bruce Lee, of whom a biopic series is currently running on CCTV, Song claimed Lee died of exhaustion because the martial arts legend "had too much sex that night, first with his male boss, and then with a female starlet".
It's strange nobody has sued him so far. Song dances on his notoriety. In his blog, he dares you to bring him to court. As soon as the SARFT intention was revealed, he countercharged, seeking compensation of 10,000 yuan. It'll be interesting to see how the drama unfolds.
The press says all netizens hate Song, but a browse of his blog postings demonstrates at least half of them like him. They see him as the only voice of truth and independence in the entertainment industry. At least three of his wild assertions have later turned out to be true, including the Hong Kong sex photo scandal.
It's pathetic that some have come to see him in a heroic light. This reflects more on our society than on Song. There are mad dogs everywhere, but it's how we treat them that determines who we are and how mature we are as a civilization. I agree that the entertainment business is dirty and rotten, but that doesn't mean an objector is always in the right.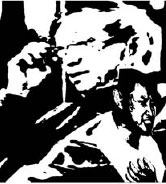 This is a circle fraught with rumors. People may entertain their friends with tall tales, but nobody in his right mind would publicize them. So, it's not how much Song got right - if you throw mud against a wall, some of it will stick - but whether he has journalistic ethics. Did he conduct any investigations? Did he talk to witnesses and those involved?
Reading his posts, I have no doubt he has no shame. He calls himself "Lu Xun of our times", tantamount to Paris Hilton comparing herself to, say, Kathryn Hepburn. One thing that still puzzles me is how he can parley his notoriety into profits. Who would want to do business with such a lowlife? But then, I suddenly think of all the adoration he has received in his blog.
SARFT has enhanced his self-importance by issuing the vague threat. The most deadly blow to someone like Song is total oblivion - as if he doesn't exist. If anyone should hit him with a libel suit, it should be the celebrities smeared by him or their families in the case of the departed Xie
Using administrative means to muffle a voice like Song's represents the worst of both worlds, Song's and the government's. It will only elevate him to the status of a maverick. It's a miracle that Song has been left alone for so long while voices of real value have been hushed. The best weapon against a loony disguised as a fighter of truth is law and rationality.
(This is the last of Raymond Zhou's op-ed column. He has started a new column on the Life page, focusing on culture and entertainment.)
E-mail: raymondzhou@chinadaily.com.cn
(China Daily 11/01/2008 page4)