人们通常认为鸟类大脑简单,科学家们很多年来也是这么认为和这么教人的。但当乌鸦和鹦鹉,包括其它鸟类的行为表明它们和黑猩猩一样聪明时,这种观念就不断受到质疑。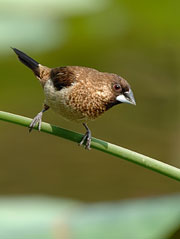 Birdbrain has long been a colloquial term of ridicule. The common notion is that birds' brains are simple, or so scientists thought and taught for many years. But that notion has increasingly been called into question as crows and parrots, among other birds, have shown what appears to be behavior as intelligent as that of chimpanzees.
The clash of simple brain and complex behavior has led some neuroscientists to create a new map of the avian brain.
Today, in the journal Nature Neuroscience Reviews, an international group of avian experts is issuing what amounts to a manifesto. Nearly everything written in anatomy textbooks about the brains of birds is wrong, they say. The avian brain is as complex, flexible and inventive as any mammalian brain, they argue, and it is time to adopt a more accurate nomenclature that reflects a new understanding of the anatomies of bird and mammal brains.
"Names have a powerful influence on the experiments we do and the way we think," said Dr. Erich D. Jarvis, a neuroscientist at Duke University and a leader of the Avian Brain Nomenclature Consortium. "Old terminology has hindered scientific progress."
The consortium of 29 scientists from six countries met for seven years to develop new, more accurate names for structures in both avian and mammalian brains. For example, the bird's seat of intelligence or its higher brain is now termed the pallium.
"The correction of terms is a great advance," said Dr. Jon Kaas, a leading expert in neuroanatomy at Vanderbilt University in Nashville who did not participate in the consortium. "It's hard to get scientists to agree about anything."
Scientists have come to agree that birds are indeed smart, but those who study avian intelligence differ on how birds got that way. Experts, including those in the consortium, are split into two warring camps. One holds that birds' brains make the same kinds of internal connections as do mammalian brains and that intelligence in both groups arises from these connections. The other holds that bird intelligence evolved through expanding an old part of the mammal brain and using it in new ways, and it questions how developed that intelligence is.
mammalian: 哺乳动物的
nomenclature: 术语
consortium: 协会,联盟
pallium: 大脑皮层
(来源:国际在线 英语点津 Annabel 编辑)