斑马是一种珍奇的动物,它身上黑白相间的条纹让人们非常着迷。按说这应该是一种保护色,可是这么显眼的保护色在动物身上还真少见。那么斑马的这种保护色究竟是怎样起到"保护作用"的呢?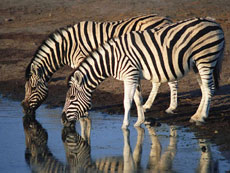 To humans, it's hard to imagine that the stripes act as camouflage. Zoologists believe stripes offer zebras protection from predators in a couple of different ways.
The first is as simple pattern-camouflage, much like the type the military uses in its fatigue design. The wavy lines of a zebra blend in with the wavy lines of the tall grass around it. It doesn't matter that the zebra's stripes are black and white and the lines of the grass are yellow, brown or green, because the zebra's main predator, the lion, is colorblind. The pattern of the camouflage is much more important than its color, when hiding from these predators.
This benefit may help an individual zebra in some situations, but the more significant means of protection has to do with zebra herds. Zebras usually travel in large groups, in which they stay very close to one another. Even with their camouflage pattern, it's highly unlikely a large gathering of zebras would be able to escape a lion's notice, but their stripes help them use this large size to their advantage. When all the zebras keep together as a big group, the pattern of each zebra's stripes blends in with the stripes of the zebras around it. This is confusing to the lion, who sees a large, moving, striped mass instead of many individual zebras. It's hard for the lion to even recognize which way each zebra is moving: Imagine the difference in pursuing one animal and charging into an amorphous blob of animals moving every which way.
So do zebra stripes confuse zebras as much as they confuse lions? Oddly enough, while making zebras indistinguishable to other animals, zebra stripes actually help zebras recognize one another. Stripe patterns are like zebra fingerprints: Every zebra has a slightly different arrangement. Zoologists believe this is how zebras distinguish who's who in a zebra herd. This certainly has significant benefits. A zebra mare and herfoal can keep track of each other in the large herd, for example, and a zebra can very quickly distinguish its own herd from another. This also helps human researchers, because it enables them to track particular zebras in the wild.
Camouflage:伪装
Amorphous:不定形的
Foal:马驹
(来源:coolquiz.com 英语点津 Annabel 编辑)