"情绪"似乎是个很流行的词。数年前兴起的"情绪摇滚"带动这股"情绪"大潮已然开始渗透人们生活的方方面面,比如着装"情绪化"等等。今天我们就来了解一些 emo fashion。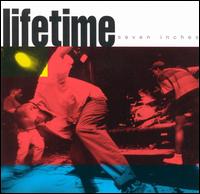 Lifetime's album "The seven inches" 
Why do people want to look "emotionally deprived"? Does this mean they want to look crazy or unstable?
Well. Proper emo fashion (not just having the fringe) is dressing like an emo person (emotionally deprived). That includes a lot of black. I suppose you can work it out from there. I personally hate the emo fashion and the clothes aren't exactly what you call original but I have nothing against emos, however, I think goth is much more stylish and in some cases, elegant.
Emo is a subgenre of hardcore punk music. Since its inception, emo has come to describe several independent variations, linked loosely but with common ancestry. As such, use of the term has been the subject of much debate.
In its original incarnation, the term emo was used to describe the music of the mid-1980s Washington, DC scene and its associated bands. In later years, the term emocore, short for "emotional hardcore", was also used to describe the DC scene and some of the regional scenes that spawned from it. The term emo was derived from the fact that, on occasion, members of a band would become spontaneously and strongly emotional during performances. The most recognizable names of the period included Rites of Spring, Embrace, One Last Wish, Beefeater, Gray Matter, Fire Party, and, slightly later, Moss Icon. The first wave of emo began to fade after the breakups of most of the involved bands in the early 1990s.
Starting in the mid-1990s, the term emo began to reflect the indie scene that followed the influences of Fugazi, which itself was an offshoot of the first wave of emo. Bands including Sunny Day Real Estate and Texas Is the Reason put forth a more indie rock style of emo, more melodic and less chaotic in nature than its predecessor. The so-called "indie emo" scene survived until the late 1990s, as many of the bands either disbanded or shifted to mainstream styles.
As the remaining indie emo bands entered the mainstream, newer bands began to emulate the more mainstream style, creating a style of music that has now earned the moniker emo within popular culture. Whereas, even in the past, the term emo was used to identify a wide variety of bands, the breadth of bands listed under today's emo is even more vast, leaving the term "emo" as more of a loose identifier than as a specific genre of music.
(来源:yahoo.com 英语点津 Annabel 编辑)
我想了解更多趣味百科知识