Most men say they would love to get flowers and most women love floral gifts as well. Now here is something you may not know: Color Talks! 大多数男人说他们喜欢买花,大多数女人也乐于接受鲜花礼品。但是有些东西你可能并不知道,那就是——颜色表心意!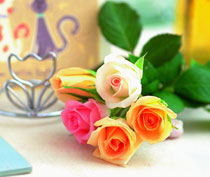 Although it is commonly accepted that all roses convey warmth and affection, the person receiving them may know and understand the meaning of roses colors and the symbolic message conveyed. It would be nice to insure that you are communicating the right message to that special person. 尽管人们普遍认为所有的玫瑰花都能传递柔情蜜意,但是接受馈赠的人可能会明白不同花色的含义和传达的寓意。能把准确的信息传达给特别的人就再好不过了。
Read on to find the meaning of the color of roses! 下面我们就来了解一下玫瑰的颜色和含义吧!
Different colors -- different meanings
Roses in mixed colors: "you're everything to me."
Red roses: romance, beauty, respect, courage, passionate love and unity.
Red & White roses together: unity or togetherness.
Dark pink roses: appreciation and gratitude, "thank you!"
White roses: unity, loyalty, reverence, humility, sincerity, purity, silence and innocence as well as youthfulness.
Yellow roses: friendship, familiar love and domestic happiness, "remember me", "I am sorry, or "I care."
Pink roses: elegance, gracefulness, refinement, gentility, style and poetic romance but being combined with fun and light-heartedness.
Light pink roses: admiration, sympathy, gentleness, grace, gladness, joy, friendship and sweetness.
The combination of red roses and pink roses: strong romance and passion.
Black roses: a major change in the future.
Purple roses: enhancement, magnification, opulence, majesty and glory, "I will always love you!"
Blue roses: fantasies, hoping for miracles, new opportunities and possibilities.
Orange roses: enthusiasm, desire and fascination, "I am proud of you!"
Peach roses: desire, anticipation, sincere appreciation and optimism for the future.
Pale peach roses: symbol of modesty
(改编自大耳朵英语 中山大学通讯员陈萌供稿) 
我想了解更多 趣味百科知识