学代数的时候老师说一圈是360度,就这样记在脑子里了。可是,一圈为什么不能是100度或者280度呢?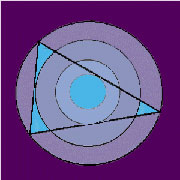 We delve back to arrive at a probable answer. A line of ancient peoples (Sumerians, Akkadians, and Babylonians) who lived in Mesopotamia (now southern Iraq) invented writing, observed the skies, and invented a 360-degree circle to describe their findings. About 3000 BC, the Sumerians invented writing. They also had a calendar, dating from 2400 BC, that divided the year into 12 months of 30 days each, that is, 360 days.
The Sumerians watched the Sun, Moon, and the five visible planets (Mercury, Venus, Mars, Jupiter, and Saturn), primarily for omens(预兆). They did not try to understand the motions physically. They did, however, notice the circular track of the Sun's annual path across the sky and knew that it took about 360 days to complete one year's circuit. Consequently, they divided the circular path into 360 degrees to track each day's passage of the Sun's whole journey. This probably happened about 2400 BC.
That's how we got a 360 degree circle. Around 1500 BC, Egyptians divided the day into 24 hours, though the hours varied with the seasons originally. Greek astronomers made the hours equal. About 300 to 100 BC, the Babylonians subdivided the hour into base-60 fractions: 60 minutes in an hour and 60 seconds in a minute. The base 60 of their number system lives on in our time and angle divisions.
(来源:www.wonderquest.com 英语点津Helen编辑)
我要了解更多趣味百科知识