下水管?前监狱?巨型木马?现代人的住宿选择的变化着实让人吃惊。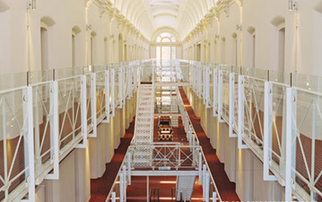 1.The Oxford Mal, England
英国:玛拉玛逊牛津酒店 (牛津监狱旅馆)
Most prisons are the kind of place you'd be desperate to escape from, not somewhere you'd possibly conceive of escaping to.
But this former Oxford prison has been converted into a boutique hotel by the fashionable Malmaison chain and offers the kind of luxurious living that former convicts could only have dreamed of.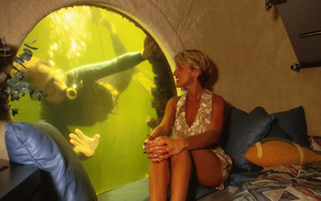 2.Jules' Undersea Lodge, United States
美国:朱尔斯海底小屋 (水下小屋)
Originally a research laboratory, the world's only underwater hotel sits at the bottom of the Emerald Lagoon in Florida, and can only be reached by scuba diving down six meters.
The lodge can accommodate two couples and is kitted out with showers, a microwave and a fridge.
The real attraction are the fish; the lodge is like a goldfish bowl in reverse, where you sit and watch angelfish, parrotfish, barracuda and snappers peering in at you through the window.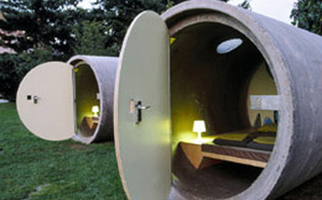 3.Das Park Hotel, Austria
奥地利:下水管旅馆
Stay overnight in a concrete sewer pipe on the banks of the River Danube.
The drainpipes are two meters in diameter and two and a half meters long, with a porthole to look out of, a front door to close and a cozy nest to snuggle into, which includes a low-slung futon, bedside lamp, woolly blanket and light sleeping bag.
It's novel, it's bold, and the best part is that you pay as much, or as little, as you want.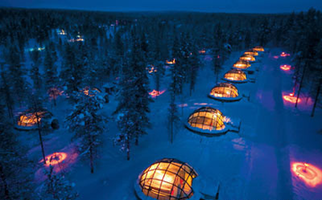 4.Hotel Kakslauttanen, Finland
芬兰:爱斯基摩小屋旅馆
There is no more sublime experience than being suffused by the Northern Lights. To do so in a glass igloo must surely be one of the more novel and cosy ways of admiring one of nature's most stunning phenomena.
Situated within the Arctic Circle, deep in the snowbound Saariselka area of northern Finland, the cabins are built from ice or glass; both are surprisingly warm and utterly chic, but somewhat lacking in privacy.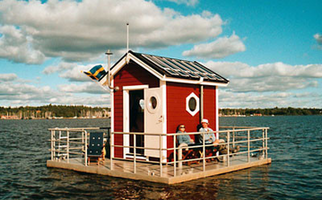 5.Utter Inn, Sweden
瑞典:阿特旅馆
Created by a Swedish artist, the Utter Inn floats on Lake Malaren, an hour west of Stockholm and looks like a small shed perched atop a diving platform.
The red hut contains a bathroom and a hatch in the floor. Open the hatch and descend a metal ladder to find your bedroom -- in a watertight chamber suspended in the water beneath the hut.
6. The Ice Hotel, Sweden
瑞典冰雪旅馆
Thermal long johns are recommended for a stay at the Ice Hotel in Jukkasjärvi where winter temperatures never rise above freezing -- and can drop to minus 35C.
As well as 59 bedrooms, there is a cinema, a sauna, an art gallery, a chapel and an uber-cool vodka bar. And sleeping on a mattress of ice is less chilly than you might think, since the beds are covered with reindeer hides and guests are kitted out with super-warm sleeping bags.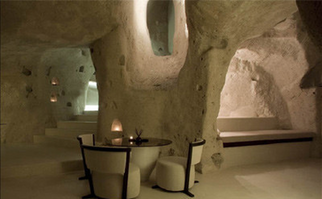 7. Sant'Angelo Luxury Resort, Italy
意大利:天使古堡豪华度假村
"Four-star boutique cave-hotel" is the proud boast of the Sant'Angelo in the city of Matera, which is famous for its sassi -- houses dug into the rock.
Matera is the only place in the world where people can boast to be still living in the same houses as their ancestors did 9,000 years ago. The rooms have been fashioned from old sassi stables and workshops. There are two restaurants, a bar and an art gallery.
8. Milos windmill, Greece
希腊:米洛斯岛风车旅馆
How about a night in a charming converted windmill on the island of Milos, watching the sunset over the sea, with a glass of retsina in hand and a plate of olives on the table?
This converted mill has two bedrooms. They are sparsely but tastefully decorated and furnished in typically Greek style: white-washed walls, wooden floors and furniture and blue shutters.
There is no pool but the mill does have air conditioning. There are also some nearby outhouses that can be rented to accommodate a larger group.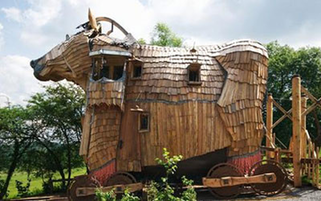 9. La Balade Des Gnomes, Belgium
比利时梦幻主题旅馆
A truly out-of-this-world experience, this hotel makes you feel like you're on the moon.
You can sleep in a moon buggy, bathe in a lunar capsule, and the walls and ceilings are covered in twinkling stars and planets.
Other themed rooms include a newly opened Trojan Horse, a Troll Forest, a South Seas sailing ship and a Wine Room.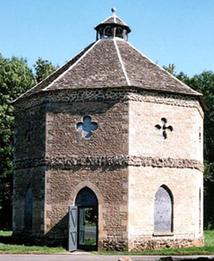 10. The Dovecote, England
英国鸽舍旅馆
Regarded as one of the most romantic hideaways in Britain, the Dovecote would certainly fit the bill for most lovebirds.
The former dovecote, which fell into disrepair in the early 20th century, has since been restored and converted into a cozy self-catering love nest which can sleep up to four people, though would be ideal for two.
Within the one-meter-thick walls are a glass-fronted balcony bedroom, a glorious wooden lantern roof and a sauna.
相关阅读
(来源:沪江英语 编辑:Rosy)