随着2008年的新年钟声响起,美国纽约时代广场的水晶球降落仪式迎来了100周年。今年百年"世纪版"的水晶球比以往更加明亮,更加环保,闪亮的水晶球镶有9576盏环保节能灯。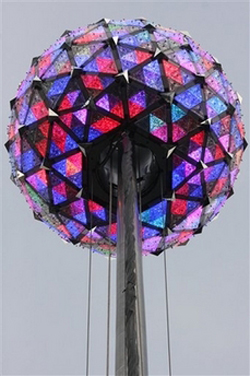 The new Times Square New Year's Eve ball is seen lit up as it moves along the flagpole on the roof of One Times Square in New York during the annual test of the ball,Dec. 30, 2007. The new ball is more than twice as bright as the old one with enhanced color capabilities and energy-efficient LED lights. This year is the 100th anniversary of the New Year's Eve ball drop in New York Times Square.[Agencies]
The ball that drops in New York's Times Square to ring in the New Year celebrates its 100th anniversary on Monday night, with a dazzling display of new environmentally-friendly lights.
Hundreds of thousands of people are expected to pack into "The Crossroads of the World" to count down the last seconds of 2007 and watch as the sparkling crystal ball makes its slow descent to usher in the New Year.
Mayor Michael Bloomberg will release the ball at one minute to midnight, setting the centerpiece of New Year celebrations in the United States going on its 60-second slide down a 23.5-meter (77-feet) flagpole.
At the stroke of midnight, fireworks will light up the sky over the packed intersection as two tons of confetti rain down on the crowd expected to reach up to one million people and giant numerals 2008 are illuminated overhead.
A further one billion people are expected to watch on television around the world as the crowds join in singing "Auld Lang Syne."
The ball itself is made of 672 crystal triangles and weighs almost 500 kilos (1,100 pounds) and is lit by 9,576 energy-efficient light emitting diodes, which replace the halogen and strobe lights in last year's ball.
This year's anniversary model will be around twice as bright as the ball that fell last year and will use only as much electricity as 10 toasters.
"We should all look this spectacular at our 100th birthday party," said Jeff Straus, president of Countdown Entertainment, overseeing the celebrations.
"Our goal for this year's re-design of the New Year's Eve ball was to create a shining gem in the sky, equally stunning from various distances," said lighting designer Paul Gregory.
"This year the ball will be brighter and more brilliant then ever before, each crystal gleaming like a diamond in the sky," he added.
Revelers would have to brave heightened security, long waits and temperatures just above freezing to join in the traditional celebrations.
Those hoping to catch a piece of the action had started arriving by mid afternoon, undeterred by a strictly-enforced alcohol ban and the likelihood of a more than eight hour wait standing on the streets.
The Times Square celebrations go back more than 100 years to 1904, when Alfred Ochs, the owner of the New York Times put on a fireworks display to welcome 1905 and celebrate the opening of the newspaper's new offices.
When city authorities banned the fireworks display on security grounds, the first ball was introduced -- a 320-kilo (700 pound) steel and wood sphere lit up with 100 light bulbs.
The ball has ushered in every New Year since then, except in 1942 and 1943, when wartime regulations restricted lighting in the city.
In 1955, a new aluminum ball was unveiled and remained in use until the 1980s, when red light bulbs and a green stem were added to transform the ball into an apple for the "I Love New York" campaign.
The traditional ball came back seven years later, computer control started in 1995 and aluminum replaced by crystal for millennium eve in 1999.
Thousands of police will be on duty to oversee security in the party zone while helicopters, undercover officers and devices to monitor chemical and radiological levels are being deployed to keep an eye on the festivities.
As in previous years, all revellers have to pass through a series of checkpoints and will be prevented from taking backpacks or alcohol into the secure area. Hundreds of police were also screening subway passengers' bags.
(Agencies)
(英语点津Celene编辑)