3名持枪男子10日闯入瑞士苏黎世"比勒基金会"博物馆,抢走印象派绘画大师塞尚、德加、梵高、莫奈的4幅名画,估计价值高达约1.64亿美元。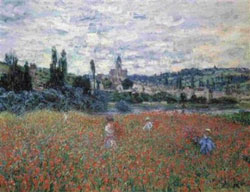 A police handout shows the painting 'Poppies near Vetheuil' by French artist Claude Monet (1840 - 1926). [Agencies]
Three gunmen in ski masks and dark clothes burst into a museum just before closing time. After a quick run through the building, they hustled out the door and sped off with paintings by Cezanne, Degas, van Gogh and Monet valued at US$163.2 million (euro112.23 million).
Authorities appealed Monday for any witnesses to help reconstruct the robbers' getaway from the E.G. Buehrle Collection, a private museum of Impressionist works whose founder had his own troubled history with stolen art.
"This is an entirely new dimension in criminal culture," police spokesman Marco Cortesi said, calling it the largest art robbery in Switzerland's history and one of the biggest ever in Europe.
The three robbers entered the museum a half-hour before its scheduled close Sunday. While one trained a pistol on museum personnel ordered to lie on the floor, the two others collected four paintings from the exhibition hall, police said.
The men, one of whom spoke German with a Slavic accent, loaded the paintings into a white vehicle parked out front. Police said the paintings may have been sticking out of the trunk as the robbers made their getaway.
A reward of US$90,000 (euro61, 890) was offered for information leading to the recovery of the paintings -- Claude Monet's "Poppy field at Vetheuil," Edgar Degas' "Ludovic Lepic and his Daughter," Vincent van Gogh's "Blooming Chestnut Branches" and Paul Cezanne's "Boy in the Red Waistcoat."
The FBI estimates the stolen art market at US$6 billion (euro 4.1 billion) annually, and Interpol has about 30,000 stolen works listed in its database. But while only a fraction of stolen art is ever found, such thefts are rare because of intense police investigations and the difficulty of selling the works.
"It's extremely hard, if not impossible, to sell these works," said Michaela Derra of Ketterer Kunst GmbH, a Munich, Germany-based purveyor of modern and contemporary art. "Maybe they think they can blackmail the insurance (companies) and get money for the paintings in return. But this is all speculation."
Police said the museum had not received any such demand.
Steve Thomas, head of art law at Irell & Manella LLP's Los Angeles office, said it was unlikely the robbery was commissioned by a private collector looking to stash art in a secret location.
He thought the motive most likely would be an insurance ransom, a reward or leverage for someone who could be facing prosecution for even bigger crimes.
"As values have skyrocketed, art has become more of a target, and we are seeing more and more major art thefts around the world," he said.
But funding for art museums, particularly in security, has not kept pace, Thomas said. "Even with the best of museums, with the best of security, with guards standing there, people still manage to get away with the art."