温网女单第4轮的赛事昨晚进行,中国选手郑洁再度爆冷,以2比0的比分轻松击败女单15号种子、世界排名第15位的匈牙利"天才少女"扎维,闯入女单八强,平了李娜创下的中国选手在大满贯赛事中的最好成绩。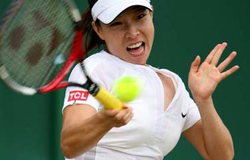 Zheng Jie of China returns the ball to Agnes Szavay of Hungary during their match at the Wimbledon tennis championships in London June 30, 2008. [Xinhua]
China's Zheng Jie admitted even she had been stunned by the ease of her sensational victory over top seed Ana Ivanovic at Wimbledon.
Zheng, ranked No 133 in the world, produced the performance of her life on Friday to stun the world No 1 6-1, 6-4 on Court One and reach the fourth round at the All England Club for the first time.
The 24-year-old doubles specialist is still feeling her way back to peak form after missing most of last year with an ankle injury, so she went into the match with few expectations of beating the French Open champion.
"I'm so happy because last year I injured my ankle and missed Wimbledon. I've been back for just half a year and I can play like this. I'm very surprised," she said.
"It's great because before I didn't think I could win in two sets, maybe three close sets.
"I felt it would be a tough match because she has the big serve and big forehand. But on the court I just try keep going.
"I just try to tell myself she's the better player, so I need 100 percent for every point.
"I felt I had the best serve, the better backhand for her, because I know she had the big forehand. I try to give the ball more to her backhand.
"Sometimes she served no good. I feel her serve was just so-so. That gave me the chance to play more aggressive."
Zheng, who now plays Hungarian 15th seed Agnes Szavay, has only made the last 16 of a Grand Slam once before, at the 2004 French Open.
But it was no surprise to Zheng that her greatest moment should come on grass. Even though she never played on grass as a child in China, she has always felt most comfortable on the surface.
With Ivanovic out the draw has opened up for Zheng and she knows she has a great chance to go deep into the second week.
"In China there are no grass courts, but every time I play the grass court I feel it is a perfect one for me. I hope I can go far and win more matches here," she said.
If Zheng does make it to the final stages at Wimbledon, she has no doubt who deserves the credit. Her husband doubles as her coach and provided valuable advice about improving her serve.
"He is my singles coach. A lot of thanks to him because before my serve was no good," Zheng said. "He helped me practice my serve. I feel now it is much better. I can have more winners."
Wimbledon is likely to be Zheng's last tournament before the Beijing Olympics as she is set to join the Chinese team for a lengthy training camp ahead of the August event.
She hopes the feel-good factor generated by her win will carry over into the Games.
"Maybe this is my last tournament before the Olympics. After this I need to go back to Beijing to be ready for the Olympics because we want to try our best," she said.
"I feel this match will give me more belief to play the Olympics."
Zheng's victory was a rare moment in the spotlight for Chinese tennis and she was especially delighted because it was broadcast live in China, meaning her friends and family could tune into her triumph.
"Tennis in China has more support from people now because Sun Tiantian and Li Ting won the 2004 Olympic gold, but this match is good for the Chinese. It was on television so I know my parents and friends can see it," she said.
(China Daily)
Vocabulary:
serve:发球
forehand:正手击球
backhand:反手击球
(英语点津Celene编辑)