美国当地时间1月20日(北京时间21日),首位当选美国总统的非洲裔人巴拉克•奥巴马正式宣誓成为美国第44任总统。这一天,"奥巴马热"再次席卷全球,多国政要、民众和媒体向他表示支持,人们希望在他的推动下,全球金融危机能迅速结束。法国总统萨科齐、英国首相布朗均表示奥巴马上台会对美国以及整个世界带来变革。而德国总理默克尔及伊朗外长穆塔基等人则称对奥巴马提出的一系列解决争端的计划是否能得以实施持怀疑态度。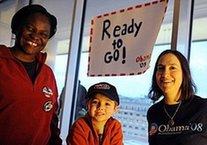 Obama supporters smile in central Rome during the inaugural address of US President Barack Obama. The world on Tuesday embraced the Barack Obama era but the leaders that the new US president will have to deal with also warned him of the difficulties ahead. [Agencies]
The world on Tuesday embraced the Barack Obama era but the leaders that the new US president will have to deal with also warned him of the difficulties ahead.
Millions followed the inauguration around the world and underscoring the huge show of faith, French President Nicolas Sarkozy said: "We are eager for him to get to work so that with him we can change the world."
British Prime Minister Gordon Brown hailed Obama as a "man of great vision" and his arrival as a "new chapter in both American history and the world's history."
"He's not only the first black American president but he sets out with the determination to solve the world's problems," said Brown.
Japan's Prime Minister Taro Aso also vowed to work with Obama to boost "peace and prosperity in the Asia-Pacific region and the world."
Obama parties were held in capitals from London to Sydney and thousands danced in the Kenyan village where his father was born.
But some leaders sought to douse the high expectations.
German Chancellor Angela Merkel wished Obama "the best of luck" but gave the latest in a series of warnings to the new US president.
She said Obama would not sway Germany to add further to its committed 4,500 force in Afghanistan. "We took our decisions based on our capabilities, our skills -- not on who is president," she said.
Merkel also expressed scepticism that Obama's plan to seek direct talks with Iran -- which many countries accuse of seeking nuclear weapons -- would work.
Obama inherits an economy in crisis, wars in Afghanistan and Iraq and a conflict in the Middle East where the United States has a key role, even though its world standing is considered lower than at any time for decades.
Iran's contested nuclear programme will also be among his major challenges.
Iranian Foreign Minister Manouchehr Mottaki said his country will await the "practical policies" of the new US president before passing judgement on him.
Pope Benedict XVI sent a message to Obama calling on him "to promote understanding, cooperation and peace" among nations.
In Gaza, where a ceasefire barely held after a three-week Israel-Hamas war in which more than 1,300 Palestinians were killed, widowed mother of six Leila Khalil said: "Obama won't bring my husband back to life.
"He was martyred and left me with six children to feed on my own. And Obama won't repair our house that was damaged in the raids," she said.
On the other side of the Middle East divide, Israeli opposition leader Benjamin Netanyahu said he had the impression that "Barack Obama understood our distress very well, as well as the cruelty of the enemies we face."
French Foreign Minister Bernard Kouchner said he "shared the admiration and emotion of the whole world" for Obama.
But he added: "I think we should not expect him to immediately solve all America's problems, nor ours. Barack Obama does not have a magic wand."
Russian Prime Minister Vladimir Putin has also countered the optimism.
"I am deeply convinced that the biggest disappointments are born out of big expectations," he said during a trip to Berlin at the weekend when asked about Obama.
International polls have, however, shown huge public support for the Democratic president-in-waiting.
A BBC World Service poll of people in 17 countries found that more than two thirds on average believe Obama will improve the relationship between the United States and the rest of the world.
Ghanaians are most positive, on 87 percent, followed by Italy (79 percent), Germany and Spain (78 percent each).
Few words of encouragement were given to President George W. Bush as he left office, his legacy scarred by the Iraq war.
Venezuelan President Hugo Chavez, who repeatedly taunted his American counterpart, took one last shot at the outgoing president, saying "Adios Senor Bush."
(Agencies)
(英语点津 Helen 编辑)