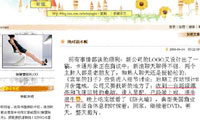 China's famous actress Xu Jinglei's blog.
Some 17.5 million blogs are being published in China, according to new research from an internet organisation.
China has around 75 million regular blog readers, representing slightly more than 61 per cent of its online population of 123 million, the China Internet Network Information Center (CNNIC) reported.
The actual number of people who have signed up with accounts at blogging services in China is even higher than these figures, reaching almost 34 million by the end of August this year, the CNNIC says.
However, half of these accounts have not yet been put into regular use by their owners. Such 'sleeping blogs' are a huge waste of internet resources, the CNNIC argued in a statement issued.
Of the 17.5 million blogs that are in use, the CNNIC describes 7.7 million as 'active'. The organisation defines active blogs as those which are updated at least once a month.
At the current rate of growth, the number of active blogs in China will most likely exceed 10 million by the end of the year.
Globally, some 175,000 new blogs are being created every day, according to David Sifry, founder and chief executive of popular blog search site Technorati.
Technorati indexes blogs in many languages, including Chinese, and tracks more than 55 million blogs in total.
Related story : 新闻热词blog

(Agencies)
据互联网组织的一项最新调查显示,目前我国博客数量已达1750万左右。
中国互联网络信息中心公布的一项调查报告显示,中国的活跃博客读者达7500万人左右,占1.23亿网民总数的61%之多。
据中国互联网络信息中心介绍,截至今年8月底,中国注册博客的实际人数已达3400万,远远大于以上数字。
中国互联网络信息中心在其发表的一份声明中称,有一半的博客空间并没有正常更新,这些""睡眠博客"是对互联网资源的巨大浪费。
在1750万个博客空间中,只有770万个"活跃博客"(每月至少更新一次)。
按目前的速度发展,到今年年底,中国的活跃博客数量有望突破1000万。
据热门博客搜索引擎Technorati的创建者及首席执行官大卫·西弗里介绍,目前全世界每天新增约17.5万个博客。
Technorati将博客按照多种语言编入索引,其中包括中文。目前,Technorati共能搜索到5500多万个博客。


(英语点津姗姗编辑)