影片对白  We dispense the one with no use and create another it is.
文化面面观  James Bond 之父--Ian Fleming

World War II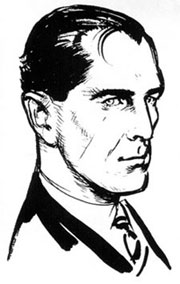 Fleming's commissioned impression of 007 used as an example to aid the Daily Express comic strip artists.
In 1939, on the eve of World War II, Rear Admiral John Godfrey, Director of Naval Intelligence of the Royal Navy, recruited Fleming (then a reserve subaltern in the Black Watch) as his personal assistant. He was commissioned first as a Royal Naval Volunteer Reserve lieutenant, and subsequently promoted to Lieutenant Commander, then Commander.
Writing career
As the DNI's personal assistant, Fleming's intelligence work provided the background for his spy novels. In 1953, he published his first novel, Casino Royale. In it he introduced secret agent James Bond, also famously known by his code number, 007, which indicates that he has a licence to kill. Bond appears with the beautiful heroine Vesper Lynd, who was modelled on SOE agent Christine Granville. Ideas for his characters and settings for Bond came from his time at Boodle's. Blade's, M's club (at which Bond is an occasional guest), is partially modelled on Boodle's and the name of Bond's arch enemy, Ernst Stavro Blofeld, was based on a fellow member's name.
Initially Fleming's Bond novels were not bestsellers in America, but when President John F. Kennedy included From Russia With Love on a list of his favourite books, sales quickly jumped. Fleming wrote 14 Bond books in all: Casino Royale (1953), Live and Let Die (1954), Moonraker (1955), Diamonds are Forever (1956), From Russia With Love (1957), Dr. No (1958), Goldfinger (1959), For Your Eyes Only (1960), Thunderball (1961), The Spy Who Loved Me (1962), On Her Majesty's Secret Service (1963), You Only Live Twice (1964), The Man With The Golden Gun (1965), and Octopussy/The Living Daylights (1966).
考考你
用今日所学将下面的句子译成英语。
1.这样的行为和他的性格不符。
 
2.今年我们的花园还不错。

3.她继承的遗产助她在社会上成功。


Casino Royale《皇家赌场》(精讲之五)考考你 参考答案
Mr. Bond, we proceed alphabetically. Please be so kind as to enter the password of your choice. Six letters or more.
邦德先生,我们按字母顺序来。请您输入一下您选择的密码。至少六个字母。
影片对白  We dispense the one with no use and create another it is.
文化面面观  James Bond 之父--Ian Fleming

点击进入: 更多精彩电影回顾 


(英语点津Annabel编辑)