Panic button? 紧急呼叫按钮
中国日报网 2018-09-07 11:07
Reader question:
Please explain "panic button" in this: America's bull market may end soon, but it's not time to hit the panic button yet.

My comments:
First of all, in stock market terminology, bull market means share prices are rising. It is the opposite of what is known as a bear market, during which period share prices fall. Presumably the raging bull always charges ahead; the bear is kind of bearish, weak and spiritless.
Anyways, in our example, America's bull market may turn bearish and growth may slow, but it's not time to hit the panic button yet.
In other words, it's not time to get panicky and lose all control yet. To wit: Do not sell all your stock and leave the place. Not yet. Be a little patient. With a little luck, the economy may be able to keep going.
Panic button?
That's a button or switch to use in times of emergency. You can press the button to call for help. In the elevator, for example, there is such a button for us to push if the elevator stops moving all of a sudden or if the lighting goes off suddenly. Hearing the button call, maintenance and/or security people will come to our assistance.
According to WorldWideWords.org, "hit the panic button" originates some time during the Korean War, from among US pilots:
To judge by a short article by Lt Col James L Jackson of the US Air Force in American Speech in October 1956, even the flyboys weren't sure at the time. He said that "to hit the panic button" was used to mean "the person spoke or acted in unnecessary haste or near panic." He identified four possible button contenders, but concluded:
The actual source seems probably to have been the bell system in the Second World War bombers (B-17, B-24) for emergency procedures such as bailout and ditching, an emergency bell system that was central in the experience of most Air Force pilots. In case of fighter or flak damage so extensive that the bomber had to be abandoned, the pilot rang a "prepare-to- abandon" ring and then a ring meaning "jump." The bell system was used since the intercom was apt to be out if there was extensive damage... The implications of the phrase seem to have come from those few times when pilots "hit the panic button" too soon and rang for emergency procedures over minor damage, causing their crews to bail out unnecessarily.
So, therefore and in short, metaphorically speaking, we hit the panic button to announce we're in great trouble, everything's got out of hand, we are losing control and, therefore, we get panicky.
Or we may hit the proverbial panic button too soon, indicating we're perhaps too timid, fearing the worst before the worst comes, losing control easily and caving in and giving up before all options are exhausted.
Needless to say, someone weak and pessimistic is likely to hit the panic button first while someone who is tough minded, calm and optimistic may hold on a little, using the panic button only as a last resort.
Which is as it should be, of course.
All right, no more ado. Here are media examples of people reaching for the panic button in various situations:

1. Rain has delayed the final push to plant corn, creating a two-month planting season in the Wabash Valley.
Cooler temperatures have also impacted corn already planted, with several fields displaying yellow leaves instead of a dark green.
"Most of that is not nitrogen loss, it is the cool temperatures," said Jim Luzar, extension educator for Purdue University Cooperative Extension Service's Vigo County office. "The plant is just not photosynthesizing at its optimal level to make the good green-colored leaves full with chlorophyll."
There were 1.2 days suitable for fieldwork for the week ending May 18, according to the U.S. Department of Agriculture's National Agricultural Statistics Service.
Statewide, 42 percent of the corn crop has emerged, which is 3 percent better than the 5-year average. Indiana and the nation match at 33 percent of soybeans planted.
Temperatures ranged from 30 degrees to 87 degrees statewide, with precipitation varying statewide from 1.1 inches to 5.22 inches. In Terre Haute, temperatures ranged from 82 degrees to 37 degrees, with 1.73 inches of rainfall over five days, reported at the Terre Haute International Airport-Hulman Field.
Among the big "I"s, Indiana overall has 72 percent of its corn planted, Illinois and Iowa each have 84 percent of the corn crop planted as of this week, according to the AGWEB from Farm Journal.
"At the end of April and in the first week of May, we had a real good run of planting progress," Luzar said. "We have a tremendous capacity to get a lot of acres planted in a short period of time, but the problem is when we do get these wet spells, we have a lot soil in the Wabash Valley that does not dry out quickly."
"With the cooler temperatures and the intermittent rain, with both combined, the soil doesn't dry out quickly. Those heavy clay soils still have many aces that are not planted yet because of the cool, wet conditions," Luzar said.
That's the case for Vigo County farmer Terry Hayhurst.
With clay soil on his farm, Hayhurst said he has had to work from rainstorm to rainstorm to try to complete planting.
"Clay soil holds moisture which is great for the summer, but in the spring of the year it is more frustrating because it takes a while to dry out," Hayhurst said. "We have a third of corn yet to plant and all of the soybeans still yet to go."
Hayhurst said he is not concerned about planting beans, which can be done up to mid June, but with corn, delays in planting could reduce yields.
…
Hayhurst said he has not hit "the panic button" yet, even for corn that is planted later "it will grow a litter faster than what it does if it is planted earlier. So even though we lose some days on the front end, we gain them back because the plant automatically responds to a little later planting date, especially corn," Hayhurst said.
"If it can dry up in the next few days to where we can get in after the first of this week and get corn planted and not have some stresses on it, yields can be just as good, I think," Hayhurst said.
- Farmers in final push to plant corn, TribStar.com, May 24, 2014.

2. Draymond Green sees a number of "glaring concerns" with the Cleveland Cavaliers right now, but none more concerning than LeBron James' workload.
"LeBron is playing so many minutes right now," Green told USA Today's Sam Amick.
At 32 years old and in his 15th NBA campaign, the four-time MVP is averaging a league-high 38.1 minutes per outing - the most he's played in seven years. Sure, he's one of the greatest athletes on the planet and has proven to be durable, but his age is bound to catch up with him.
"Yeah, he's super human but eventually his super-human powers go away, so that would be more of my concern if I'm a Cavs fan or somebody with the Cavs or a player, is like 'Man, he's been playing a lot of 40-minute (nights) and it's only Nov. 12," the Golden State Warriors forward said. "I don't think nobody should be playing 40 minutes a game in November'."
Still, the Defensive Player of the Year knows better than to write off the 7-7 Cavaliers - a team his Warriors have faced in the last three NBA Finals. He said he wouldn't hit the panic button yet, noting they "know how to win." It's also very early and they're working in seven new players, not including All-Star Isaiah Thomas, who's yet to suit up for them due to a hip injury.
James is averaging 28.1 points, 8.8 assists, 7.6 rebounds, 1.3 blocks, and 1.2 steals in 14 games, but Cleveland is currently out of the playoff picture at ninth in the East and has the NBA's worst defensive rating.
- Draymond: LeBron's workload the most worrying of Cavs' 'glaring concerns', TheScore.com, November 15, 2017.

3. There is no President Trump without John McCain.
McCain, as the Republican presidential nominee in 2008, pushed the panic button ahead of the GOP national convention, trying to shake up the race with Democratic nominee Barack Obama by picking as his running mate the then-Alaska governor, Sarah Palin, a darling of the far right.
And thus it was that we got Palin and her racist dog-whistles on the national stage, and even in defeat that fall, what we now call the alt-right got its tailwind.
You can trace a direct line from Palin to the birther movement that Trump took up as his own cause to enter the political fray before Obama's re-election in 2012.
From there, Trump, reading the political tea leaves, went all-out xenophobe in setting out his own presidential campaign in 2015-2016, and, well, here we are now.
Trump is Palin 2.0, and there wouldn't have been a Palin 1.0 without: John McCain.
So, good on McCain that he literally thumbs-downed that one vote against killing ObamaCare.
What Karl Rove did to him in 2000 was abominable. What he endured in North Vietnam for five years is unimaginable, as it is that our current POTUS, a draft-dodger, would even think the words, I prefer heroes who don't get captured, much less say them out loud, over and over and over, to score political points.
McCain was a war hero, and he didn't entirely toe the party line as an elected.
But, he also unleashed Sarah Palin and Donald Trump on us.
That's his most enduring legacy.
- On John McCain: A direct line from McCain '08 to Trump '16, AugustaFreePress.com, August 26, 2018.
本文仅代表作者本人观点,与本网立场无关。欢迎大家讨论学术问题,尊重他人,禁止人身攻击和发布一切违反国家现行法律法规的内容。
About the author: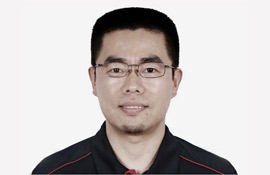 Zhang Xin is Trainer at chinadaily.com.cn. He has been with China Daily since 1988, when he graduated from Beijing Foreign Studies University. Write him at: zhangxin@chinadaily.com.cn, or raise a question for potential use in a future column.
(作者:张欣 编辑:丹妮)
中国日报网英语点津版权说明:凡注明来源为"中国日报网英语点津:XXX(署名)"的原创作品,除与中国日报网签署英语点津内容授权协议的网站外,其他任何网站或单位未经允许不得非法盗链、转载和使用,违者必究。如需使用,请与010-84883561联系;凡本网注明"来源:XXX(非英语点津)"的作品,均转载自其它媒体,目的在于传播更多信息,其他媒体如需转载,请与稿件来源方联系,如产生任何问题与本网无关;本网所发布的歌曲、电影片段,版权归原作者所有,仅供学习与研究,如果侵权,请提供版权证明,以便尽快删除。