Prince Charming? 白马王子
中国日报网 2019-06-14 13:58
Reader question:
Please explain this sentence, "Prince Charming" in particular, "Are you still waiting for your Prince Charming?"

My comments:
Obviously this question is addressed to a woman who's not married because she's not found her match or the right man.
The question is, in other words, "are you still looking for your Mr. Right?"
We know this because, you see, Prince Charming is that kind of man. Prince Charming is a fairy tale character who comes to the rescue of a princess in distress or any woman in trouble, both in the romantic sense and otherwise.
More often we Chinese talk about White Knight (We call him the White-Horse Prince) more than Prince Charming but they're the same people. I mean the White Knight is someone who rides a white horse and does the exact the same thing – coming to the rescue of a princess or any woman in distress.
There are many fairy tales featuring the likes of Prince Charming (Cinderella, for example), but the long and short of it is this: Prince Charming (or for that matter White Knight) comes to represent the perfect man, the perfect match or partner for a woman.
In modern terms, he's Mr. Right.
Mr. Right doesn't sound exactly right, of course. Mr. Right is real and may not turn out to be so perfect. I mean, Mr. Right may turn out to be a perfect match for the miss in question, but the modern-day, real-world Mr. Right can never match the man in fairy tales.
In fairy tales, you see, Prince Charming is just perfect, perfect in every way, perfect as in flawless, perfect as in a perfect 10.
Oh well, fairy tales being fairy tales and real life being just that, I guess Mr. Right should suffice and be good enough.
And here are recent media examples of Prince Charming:

1. Actress Kristen Bell is concerned about the scene in the Disney classic "Snow White" where Prince Charming kisses the sleeping damsel and awakens her from a spell-induced slumber. The star of the current Disney film "Frozen" told Parents magazine that she worries about the effect this nonconsensual peck on the lips will have on her two daughters.
In an interview published Wednesday, Bell raises concerns about the message "Snow White" sends to her two daughters.
"Don't you think that it's weird that the prince kisses Snow White without her permission? Because you cannot kiss someone if they're sleeping!" she said.
That's not all; Bell also wonders how Snow White could possibly be so clueless as to accept an apple from a strange witch. And she tells her daughter that when reading the children's story to them.
"Everytime we close Snow White I look at my girls and ask 'Don't you think it's weird that Snow White didn't ask the old witch why she needed to eat the apple? Or where she got the apple?' I say, 'I would never take food from a stranger, would you?' And my kids are like, 'No!' And I'm like, 'OK, I'm doing something right,'" she told the magazine.
- KRISTEN BELL THINKS NONCONSENSUAL 'SNOW WHITE' KISS IS 'WEIRD', DailyCaller.com, October 18, 2018.

2. Rihanna confessed that she wants to be a mother 'more than anything in life' — when it comes to putting those plans to action with Hassan Jameel, a source revealed whether the singer is in a 'rush' or not.
The stars seem aligned for Rihanna, 31, and boyfriend Hassan Jameel, 30, to start a family. They both now live in London, and RiRi has voiced her desire to become a mother — as for the possibility of that happening in the near future, "Rihanna would love to have babies with Hassan but she's not in any huge rush," a Rihanna source EXCLUSIVELY tells HollywoodLife. "She's so busy with all her projects, right now her career still takes so much time." Keep in mind, she has four empires to juggle — her music career, lingerie brand, cosmetics company and luxury clothing line. But that doesn't mean Rihanna always has "Work" on the mind!
"But she's in love with him," our source clarifies, a sentiment Rihanna confirmed in her conversation with Ocean's 8 co-star Sarah Paulson for the Summer 2019 issue of Interview Magazine. When Sarah asked if the singer is "in love" with Hassan (who wasn't directly name dropped into the chat), Rihanna was straight up: "Of course I am" — you can watch the interview recap in our video below! With that said, Rihanna "does hope for a future with him and that includes a family," our source adds. "But there's no timeline, she's not stressing about it."
The feelings are mutual. "Rihanna loves Hassan and he's just as smitten, it's very much a two way street," our source continues. "When you see them together you can't miss it, they clearly adore each other. And he's very chivalrous with her, he treats her like a queen, he's totally her Prince Charming." This was proven by Rihanna and Hassan's latest batch of photos from Italy, where they looked loved up on a yacht and on another cozy boat ride in early June.
- Rihanna 'Would Love To Have Babies' With Boyfriend Hassan Jameel: She 'Loves' Him, HollywoodLife.com, June 12, 2019.
3. Prince Carl Philip and Princess Sofia of Sweden are celebrating their fourth anniversary this month, and it has us reminiscing about their fairy-tale wedding. The couple tied the knot in a stunning ceremony on June 13, 2015. Philip, fourth in line to the throne, couldn't have looked more in love as he exchanged vows with former model Sofia Hellqvist at the Royal Chapel at the Royal Palace of Stockholm. The bride wore a lace dress befitting her new title, Duchess of Värmland, and smiled at her real-life prince charming at the altar. As for the kiss, Carl couldn't help but smile while they locked lips, marking one of many sweet and sexy moments.
Carl and Sofia first hit it off in 2009, but waited four years before getting engaged in June 2014. Since their wedding, the duo has shown off their chemistry and gorgeous looks at various events. They are also parents to two sons, Prince Alexander, who was born in April 2016, and Prince Gabriel, who was born in August 2017. Keep reading to see their nuptials from all angles in honor of their anniversary!
- The Most Breathtaking Pictures From Prince Carl Philip and Princess Sofia's Wedding, Yahoo.com, June 13, 2019.
本文仅代表作者本人观点,与本网立场无关。欢迎大家讨论学术问题,尊重他人,禁止人身攻击和发布一切违反国家现行法律法规的内容。
About the author: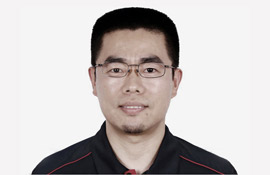 Zhang Xin is Trainer at chinadaily.com.cn. He has been with China Daily since 1988, when he graduated from Beijing Foreign Studies University. Write him at: zhangxin@chinadaily.com.cn, or raise a question for potential use in a future column.
(作者:张欣 编辑:丹妮)
中国日报网英语点津版权说明:凡注明来源为"中国日报网英语点津:XXX(署名)"的原创作品,除与中国日报网签署英语点津内容授权协议的网站外,其他任何网站或单位未经允许不得非法盗链、转载和使用,违者必究。如需使用,请与010-84883561联系;凡本网注明"来源:XXX(非英语点津)"的作品,均转载自其它媒体,目的在于传播更多信息,其他媒体如需转载,请与稿件来源方联系,如产生任何问题与本网无关;本网所发布的歌曲、电影片段,版权归原作者所有,仅供学习与研究,如果侵权,请提供版权证明,以便尽快删除。