It all boils down to one thing 所有这些都可归结为一点
中国日报网 2019-06-21 11:51
Reader question:
Please explain "boils down", as in this: "It all boils down to one thing: a failure to plan."

My comments:
If you boil meat and bones in the pot full of water, what boils down after a while is of course meat and bones with some sticky soup. The pot is now perhaps half full because a lot of water has been boiled away.
And if you keep boiling the pot, sooner or later all water will evaporate and all that is left in the pot will be charcoal-like burnt meat and bones. That's what will happen after all water in the pot is gone.
Anyways, that's literally what happens if we allow a pot of meat and bone soup to boil down, all the way down.
So, you see, what boils down to is the heavy stuff, the meat and bones, instead of bubble and foam.
So metaphorically speaking, when we say it all boils down to one thing, we mean to convey that this "one thing" is the most important thing, the crucial thing, the key point you want to make.
In our example, the speaker want to say that "failure to plan" is what leads to the current problem, whatever that may be.
I can certainly give you an example of how "failure to plan" may lead to trouble. It's an example everyone can relate to. When we visit a new place, for instance, we often find that we fail to see more places and do more things than we want to. A great part of that is due to lack of planning.
For example, we may think we have enough time to visit a museum and a bookstore in the morning, a shopping mall in the afternoon and a restaurant in the evening. But after we get into the museum it begins to rain. We don't have an umbrella with us, so we decide to wait inside the museum till the rain is over. Well, when the rain is over, it's almost lunch time. So we decide to have lunch at one of the most famous restaurants in town. We go there and do not have lunch - because the place is already full. Plus, there are forty-five people on the waiting list queuing up. We can wait till after all these people get served but soon give up on the idea. Obviously when all the people ahead of us get served, it'll be 2 o'clock in the afternoon. So we decide to skip lunch – by taking a few bites of bread along with gulps of bottled water – and head to the shopping mall directly. It is a well-known place we all want to do some shopping at. So we arrive at the place at about 2 o'clock in the afternoon – traffic, traffic, traffic – but do not get any shopping done. The whole place is closed off: Renovation.
So we decide to go back to our hotel room to get a breather and head to the restaurant for the evening meal. We want to somehow make up for it by having a good meal at the restaurant, another one in town that's of high renown. So we arrive at the restaurant in a body at 5 o'clock but are instead invited to come back to dine there three days later. It turns out that all seats at the restaurant have to be booked three days in advance.
Well, we end up exhausted and full of disappointment, feeling we have done nothing except getting a first-hand experience of the city traffic and waiting for the heavy rain to subside inside a museum.
And you know what's really annoying? Even at the museum we fail to see the show we've come to see. We've come late, we are told. The show closed last month.
Ah, well, what it boils down to is a failure to plan. If we planned better, we could at least have gone to see a show that's actually on-show and booked for seats at a restaurant in advance and shopped at a place that's not under renovation.
And we could certainly have brought umbrellas with us.
Well, that's a wordy example. Sorry, but it all boils down to one thing.
Yes, indeed, it all boils down to one thing: Learn this very phrase.
And here are media examples to help us get to the gist of what "boil down to" really means:

1. Selena Quintanilla met her husband, Chris Pérez, when he became a guitarist in her band Los Dinos in 1990. The couple started dating, and their relationship got serious quickly - in a series of Facebook posts, Chris confessed the famous pizza scene in the 1997 movie Selena marked the first time Chris and Selena said "I love you." The pair dated in secret since Selena's dad, Abraham, did not approve of their relationship and eloped in April 1992. The two tried to keep their marriage a secret, but news outlets reported that they had tied the knot, so they were forced to tell her family that Selena was now Selena Quintanilla-Pérez.
Chris opened up in an interview with CNN in 2013 about how unhappy the Tejano singer's father was when he discovered the two were together. "I think the main reason for that was it kind of hurt his pride and his ego to find out that he was the last to know and when things got tense and things were said by him, it hurt me that he was saying it but I didn't let it get to me because I knew deep down he knew the kind of person I was."
The now-47-year-old also went on to say he and Selena hit a rough patch in their marriage before her untimely death and had even discussed divorce. "I think what it boiled down to is that we were young. We were married and together 24 hours a day, seven days a week. We had to learn how to handle that and that was both of us. It's not like she brought up the idea and I was fighting it because honestly I was right there with her," he told CNN. "We communicated with each other and when that came out on the table it wasn't like I hadn't thought of it myself. The more we talked about it and the more time went on, it wasn't a long time, maybe a month, we ended up patching things up and making a promise that we would never let that happen again."
Chris became a widower when Selena was murdered in March 1995, a little over three years after their wedding. He remarried Vanessa Villanueva in 2001 and had two children, a boy and a girl, before divorcing in 2008. Now, he makes efforts to keep Selena's legacy alive, attending the launch of Selena's MAC Cosmetics line, and even gave fans a peek at his marriage with Selena when he wrote his book To Selena, With Love.
- How Selena's Widower, Chris Pérez, Keeps Her Legacy Alive, Yahoo.com, December 1, 2017.

2. Key senators and farm groups are trying to fix a provision in the federal tax overhaul that gave an unexpected tax break to farmers who sell their crops to cooperatives rather than regular companies.
Lawmakers say they didn't intend to give a competitive advantage to co-ops. But it's not clear they can rework the legislation given the partisan divide on Capitol Hill. That means many companies — from local grain companies to agribusiness giants such as Cargill and ADM — could wind up paying more for crops than co-ops.
The provision from GOP Sens. John Thune of South Dakota and John Hoeven of North Dakota surfaced in the final days of the debate over the tax bill, which President Donald Trump signed last month. Thune and Hoeven wanted to replace a deduction that benefited co-ops in the old law, which was being dropped, and they wanted to make sure farmers didn't wind up with a tax increase.
But the final language went further than maintaining the status quo.
"I think at the end of the day what it boiled down to is the staff didn't know what they were doing. … They rushed this thing through," said U.S. Rep. Collin Peterson of Minnesota, the ranking Democrat on the House Agriculture Committee.
Agricultural co-ops are typically owned by farmers, and they provide their members with help with marketing crops, purchasing supplies and various other services. They range from small and local co-ops to big, nationwide ones such as Land O' Lakes and Sunkist Growers. Pacific Northwest agricultural co-ops include Darigold and the Tillamook County Creamery Association, which produces dairy products under the Tillamook brand.
The new provision lets farmers deduct 20 percent of their gross sales to co-ops, but only 20 percent of their net income if they sell to other companies. The difference is big enough that farmers who sell to co-ops could entirely eliminate their tax bills.
- Tax law gives unexpected break to farmers who sell to co-ops, Associated Press, January 18, 2018.

3. Have you ever noticed a difference in how you feel when drinking cold versus room temperature water? If not, there's a good chance you at least have a preference for one or the other, when it comes to what you reach for when you're thirsty. And there are several possible reasons for that.
The stomach reacts differently to cold water, than it does to warm, which can in turn affect digestion. The temperature of water can also impact your circulation, according to experts, and can even contribute to things like headaches. When it comes to hydration, though, it's important to keep in mind that water is water, no matter the temp.
"All water is good," Dr. Jill Blakeway, a licensed and board-certified doctor of acupuncture and Chinese medicine, and founder and clinical herbalist at Yinova, tells Bustle. "Cold water is refreshing and cooling. It's great on a hot day and a good choice after exercise."
But you can feel free to choose whichever temperature you like best. "Drinking warm water may be better in some instances where as drinking cold water might also be more beneficial," registered dietician Vanessa Rissetto, tells Bustle. "It really boils down to preference and what you feel might be right for you." Read on for more facts about cold versus room temperature water, according to experts.
- 7 Shocking Facts About Drinking Water Cold Vs. Room Temperature, Bustle.com, March 1 2019.
本文仅代表作者本人观点,与本网立场无关。欢迎大家讨论学术问题,尊重他人,禁止人身攻击和发布一切违反国家现行法律法规的内容。
About the author: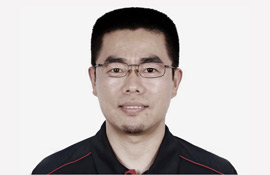 Zhang Xin is Trainer at chinadaily.com.cn. He has been with China Daily since 1988, when he graduated from Beijing Foreign Studies University. Write him at: zhangxin@chinadaily.com.cn, or raise a question for potential use in a future column.
(作者:张欣 编辑:丹妮)
中国日报网英语点津版权说明:凡注明来源为"中国日报网英语点津:XXX(署名)"的原创作品,除与中国日报网签署英语点津内容授权协议的网站外,其他任何网站或单位未经允许不得非法盗链、转载和使用,违者必究。如需使用,请与010-84883561联系;凡本网注明"来源:XXX(非英语点津)"的作品,均转载自其它媒体,目的在于传播更多信息,其他媒体如需转载,请与稿件来源方联系,如产生任何问题与本网无关;本网所发布的歌曲、电影片段,版权归原作者所有,仅供学习与研究,如果侵权,请提供版权证明,以便尽快删除。