Elon Musk's in-tray? 待处理事项
中国日报网 2022-04-26 12:27
分享到微信 Reader question:
Please explain this headline, "in-tray" in particular: Five things in Elon Musk's in-tray after Twitter takeover.

My comments:
There are five things Elon Musk must do immediately after taking over Twitter.
In the news, in case you're not up to date, Musk, the Tesla CEO and the richest man on earth, has bought Twitter, the big social media network.
Five items are immediately indentified after the takeover – for Musk to deal with right away.
Immediately? Right away?
Yes, that's what we can safely infer because those five items are now put into Musk's "in-tray".
In-tray, you see, is an office jargon. In the newsroom, for example, an in-tray may refer to copies to be read, corrected (for minor errors) or altogether re-written by sub-editors (or copy readers). Sub-editors begin a day's work by looking into the in-tray. Afterward, edited copies are put into an out-tray, meaning these copies have been treated and are ready to be put OUT (ready for publication).
In any office in the old day, an in-tray could be found. Today, of course, everything is dealt with electronically.
Well, almost so, but you get the point.
An in-tray is the opposite of an out-tray. The out-tray, obviously, contains and hence represents things that have been done and dealt with.
An in-tray is also called an in-basket, with the out-tray called an out-basket.
Basket?
Yes, in case a tray, which is a flat and shallow container, isn't big enough to hold all documents. Baskets, which are deeper and bigger, are used instead.
All right?
All right, here are media examples of in-tray and, in fact, in-basket (standing for work yet to be done):

1. After two years of speculation about the future, the Conservative race to be the next Prime Minister is underway. Tonight the remaining contenders will set out their stalls for why they should be our next leader.
Brexit will be the biggest task the next occupant of Number 10 faces and is likely to dominate tonight's debate. But closer to home there are many important policy issues – flagging national productivity, stark geographical inequality, the housing affordability crisis, underfunded adult education, creaking social care – that have fallen by the wayside since 2016. Brexit can no longer be the excuse for not addressing these.
Despite warm rhetoric about the need to rebalance the economy, this Government has been cooler on the Northern Powerhouse than its predecessor, has stalled on introducing the Shared Prosperity Fund, and the pace of urban devolution has slowed at exactly the same time as Westminster politicians turned their attention away from domestic politics.
The importance of cities in the national political debate has been overlooked lately. Despite this we are an urban nation and cities matter. They account for just 9% of UK land but are home to over half the population, 60% of jobs and 62% of GVA. While Conservative Party's heartlands may be in the shires and just one contender this evening has an urban constituency, any of those hoping to take up the One Nation mantle needs to have a programme for Government that improves the lives of people living and working in cities.
...
Cities generate 77% of Britain's total services exports, and over half of these go to the European Union. London, Edinburgh and Cardiff would be among the biggest losers should Britain leave the EU without a comprehensive deal which includes services.
The next Prime Minister should be mindful of the importance of the EU to the livelihoods of people living in Britain's cities – a majority of the country's population – and ensure that any future Brexit deal keeps trade with the continent in both goods and services as frictionless as possible.
This leadership contest is particularly interesting for those of us focused on urban policy; it may well be the first one in British history in which a politician goes from a city hall to Downing Street – potentially setting a precedent for aspiring future prime ministers.
Irrespective of who triumphs on the BBC tonight, and who goes on to win this contest, the next Prime Minister has a big in-tray waiting for them – and Brexit is just the start.
- What can the next Prime Minister do to help people living in cities? CentreForCities.org, June 18, 2019.

2. Culture Secretary Nadine Dorries has said people have become afraid to say what they think for fear of being "cancelled", and that left-wing activists have "hijacked" social media.
She criticised online campaigners for frightening young people "who actually do want to engage" in serious debate.
She also described negative reaction to her new role as "quite misogynistic".
"People were making these comments for political attack and nothing else," she told BBC culture editor Katie Razzall. "I just found them thoroughly unpleasant."
As culture secretary, her in-tray includes deciding whether to privatise Channel 4, introducing a law protecting young people from harms online and setting the BBC's funding by deciding the level of the licence fee until 2027.
Dorries also announced a further £107m as part of the Culture Recovery Fund to help almost 1,000 arts and heritage organisations continue their recovery from the pandemic.
- Nadine Dorries: Culture secretary says social media has been hijacked, ScoopLoop.com, November 19, 2021.

3. The biggest news President Biden made at his news conference wasn't about Ukraine.
It was his brief answer to the question: 'Are you satisfied with your team here at the White House, sir?'
Biden, to the consternation of observers in both parties, answered curtly: 'I am satisfied with the team.'
For Washington insiders, the decision to keep his current team into his second year as president is inexplicable.
Senator Ben Sasse, a Republican not known for his partisanship, called on Biden to fire his chief of staff, Ron Klain, for pushing a 'guaranteed-to-fail vote' on killing the Senate filibuster that he argued as a political ploy.
'It's CYA (cover your ass) week in Washington,' Sasse told Fox News. He said the vote was held in part 'so that Ron Klain can throw some chum at the Democratic Party's progressive base.'
'Ron Klain thinks his own activists are dumb enough to fall for it.'
Sasse focused on Klain, because it's common knowledge that the 60-year-old backroom operator has unusual power in the Biden White House.
Klain first worked with Biden in 1987, when he was counsel to the Senate Judiciary Committee while Biden was chair and assisted Biden during his ill-fated 1988 presidential campaign. That campaign ended after Biden was caught plagiarizing a speech by Neil Kinnock, head of Britain's Labour Party.
Klain later served as Biden's chief of staff when he was Barack Obama's vice president.
As President Biden's chief of staff he has been dubbed 'the most influential chief of staff of recent vintage' in an admiring New York Times profile and The Master of Disaster by his critics.
...
Vanity Fair has reported that last October the White House decided not to ramp up free at-home rapid COVID testing in time for the holidays.
The website on which Americans can order free tests to be mailed to their homes only went live this week, with delivery promised in 7 to 12 days – well after the Omicron variant has peaked.
It's not even clear Biden himself knew much about the decision not to order tests last fall.
He told ABC News that he wished he 'had thought about ordering' at-home tests in October.
But maybe that proposal never reached his 'In' basket – only Klain's.
Klain ended 2021 by having his boss appear on national television suddenly passing the buck for the administration's haphazard COVID strategy: 'Look, there is no federal solution. This gets solved at a state level.'
- Joe Biden won't fire his all-powerful, Master of Disaster, Chief of Staff Ron Klain, says JOHN FUND, ViaCasinos.com, January 20, 2022.
本文仅代表作者本人观点,与本网立场无关。欢迎大家讨论学术问题,尊重他人,禁止人身攻击和发布一切违反国家现行法律法规的内容。
About the author: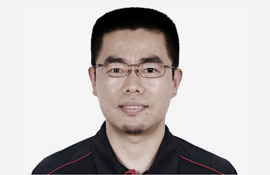 Zhang Xin is Trainer at chinadaily.com.cn. He has been with China Daily since 1988, when he graduated from Beijing Foreign Studies University. Write him at: zhangxin@chinadaily.com.cn, or raise a question for potential use in a future column.
(作者:张欣 编辑:丹妮)
中国日报网英语点津版权说明:凡注明来源为"中国日报网英语点津:XXX(署名)"的原创作品,除与中国日报网签署英语点津内容授权协议的网站外,其他任何网站或单位未经允许不得非法盗链、转载和使用,违者必究。如需使用,请与010-84883561联系;凡本网注明"来源:XXX(非英语点津)"的作品,均转载自其它媒体,目的在于传播更多信息,其他媒体如需转载,请与稿件来源方联系,如产生任何问题与本网无关;本网所发布的歌曲、电影片段,版权归原作者所有,仅供学习与研究,如果侵权,请提供版权证明,以便尽快删除。