Rude awakening?
中国日报网 2022-12-19 10:00
分享到微信 Reader question:
Please explain this sentence, with "rude awakening" in particular: The explosion came as a rude awakening for many, but thankfully, no one was hurt.
My comments:
The unspecified explosion could be, say, a bomb that went off in the middle of the night or, say, a volcano coming alive.
Whatever, it came as a surprise, and it was an unpleasant surprise at that.
Thankfully, nobody was hurt.
That's the one bit that's consoling. Otherwise, people are emotionally disturbed by the explosion because it's so unexpected.
Just as a rude awakening is in its original, literal sense.
A rude awakening, literally, alludes to someone being suddenly forced awake from a deep sleep. Our brother, for example, wakes us up for school by shaking us violently or by slapping us not at all gently in the face. Or we are having a good dream but a violent noise wakes us up, all of a sudden turning our good dream into a nightmare.
Rude means exactly that – rough and offensively impolite.
Hence the metaphorical meaning of rude awaking, a sudden, shocking realization that something has gone horribly wrong, especially when we only have ourselves to blame for it.
In other words, it's our fault.
Rude awakening has been in use since the late 1800s. It stands for any unpleasant and uncomfortable truth that one has suddenly come to realize or become aware of.
It forces us to come to our senses. It's not good feeling, because we're forced to it, especially at a time when we believe everything is fine and dandy.
All right, here are media examples of "rude awakening":
1 A pregnant lady's message to her unsuspecting boyfriend caused a frenzy online as she broke his heart in the most unlikely way.
In a screenshot shared by @Manmilk2 on Twitter, the lady shared with her boyfriend that she missed her period.
The boyfriend, in a show of support, accepted to take responsibility for the pregnancy but was in for a rude awakening.
He wrote, "Let me correct you…You're not pregnant, WE are pregnant…We're both responsible for the baby. I will support you and our baby."
The lady bluntly told him that the baby wasn't his which was as heartbreaking as the way she broke the news.
- The baby isn't yours – Pregnant lady breaks boyfriend's heart with cold message, netizens react, BattaBox.com, June 12, 2022.
2 Last night's game was a real indication of where these two teams are.
It is shocking to me that the Buffalo Bills can go on the road and turn the ball over four times to the defending champions and still roll out of Los Angeles with a 31-10 win. I think it tells you a lot about where the Bills are and it also says a lot about where the Rams are.
Let's start with the Bills. I thought they did a great job. They have a new offensive coordinator in Ken Dorsey. Brian Daboll left to take the New York Giants' job, and I thought Dorsey did a great job trying to neutralize what the Rams do so well, and that's turning Aaron Donald loose in the middle of the pocket.
They did a great job with their protection schemes. They got a lot double teams on him. They released the backs inside to help chip Donald. They did a great job sliding their protections. Most importantly, they did a wonderful job at getting the ball out quick. There were a lot of designed throws, quick throws, bubble screens, and quick screens to the backs. I think Josh Allen's get-off time through the first three quarters was like 2.2 seconds.
The other thing that they did was they changed the launch point with quarterback Josh Allen frequently. They moved him around a little bit, so they made it more difficult to really zero in on where he was. Of course, like we saw him do last year, he was able to pull the ball down and run and make some big plays. That's very frustrating for a defensive coordinator like Raheem Morris.
…
Don't count out the Rams. They've got one of the best head coaches and play-callers in Sean McVay, and they'll be back. That was a rude awakening in Week 1 for the defending-champion Los Angeles Rams.
- Bills Game a 'Rude Awakening' for Rams, by Rich Gannon, The33rdTeam.com, September 9, 2022.
3 When Brummie broadcaster Adrian Chiles started to investigate his drinking, he was in for a rude awakening.
He never thought he had a problem, going to the pub after work, downing a few pints most nights, enjoying a few glasses of wine with dinner.
He wasn't a fall-over drunk, didn't get hangovers or reach for a bottle in the morning, never woke up in shop doorways after a heavy night.
He was enjoying career success, having had high-profile TV jobs on The Apprentice: You're Fired!, The One Show, Daybreak and football coverage on ITV Sport as well as numerous radio gigs including Radio 5 Live.
But then, conscious of how much he was drinking, he focused on himself for a 2018 BBC documentary Drinkers Like Me to test how his regular drinking affected his health. He discovered he was drinking up to 100 units a week and a doctor told him he had signs of liver damage.
Unlike other drinkers, who have completely stopped, Chiles, 55, believes he has worked out how to moderate his drinking, which he details in his new book The Good Drinker: How I Learned To Love Drinking Less.
Today, he says he drinks between 20 and 30 units a week, still greater than the recommended 14 but much less than he was.
These days, he'll have a half-and-half pint of shandy (but with soda water instead of lemonade) and alternate his drinks with glasses of water.
He's also quite taken with alcohol-free beer.
"A game-changer is draught alcohol-free beer in pubs because it's got equal standing to other beers. When you've a pint of it in your hand, you look and feel the same as anybody else."
Adrian Chiles on how he cut down his drinking from 100 units a week, NewsChainOnline.com, November 29, 2022.
About the author: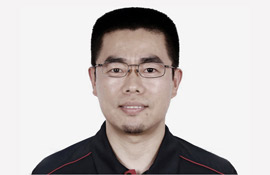 Zhang Xin is Trainer at chinadaily.com.cn. He has been with China Daily since 1988, when he graduated from Beijing Foreign Studies University. Write him at: zhangxin@chinadaily.com.cn, or raise a question for potential use in a future column.
(作者:张欣 编辑:yaning)
中国日报网英语点津版权说明:凡注明来源为"中国日报网英语点津:XXX(署名)"的原创作品,除与中国日报网签署英语点津内容授权协议的网站外,其他任何网站或单位未经允许不得非法盗链、转载和使用,违者必究。如需使用,请与010-84883561联系;凡本网注明"来源:XXX(非英语点津)"的作品,均转载自其它媒体,目的在于传播更多信息,其他媒体如需转载,请与稿件来源方联系,如产生任何问题与本网无关;本网所发布的歌曲、电影片段,版权归原作者所有,仅供学习与研究,如果侵权,请提供版权证明,以便尽快删除。