Best foot forward? 留下一个好印象
中国日报网 2023-05-09 14:24
分享到微信 Reader question:
Please explain "best foot forward" in this sentence: For tomorrow's interview, I'm advised to be confident and put my best foot forward.

My comments:
Leave a good first impression, that is.
The speaker is advised to put his best foot forward and not to make a wrong move starting out.
Best foot forward?
That sounds odd, I know. It's not even grammatical in the strictest sense since he, as all humans, has only two legs to speak of, so his "better foot" would sound more appropriate, right?
Right, but that doesn't matter. "One's best foot" is the accepted idiom and that is that. That's why it is an idiom, an expression that cannot be taken at face value, word for word. That's why English as a foreign language sounds weird sometimes.
A lot of times, actually.
And we can say the same about all languages, can't we?
We probably can, but that's neither here nor there. In our discussion, suffice it to know that putting our best foot forward means doing the right thing when we start out on a certain journey or endeavor.
Starting out right makes us feel good. It makes us feel we've got a chance to complete the task at hand.
The expression "putting one's best foot forward" might come from the simple fact that out of habit, we start walking by moving our right foot forward, or the left foot if that's your habit. If do it the other way around, it makes you feel like you've made an ominous move, like you've got up the wrong side of the bed in the morning.
In other words, it doesn't feel right. It makes you feel everything is out of whack.
More explanation, from The Phrase Finder (Phrases.org.uk):
This phrase is first recorded in the second edition of Sir Thomas Overbury's poem A Wife, circa 1613:
"Hee is still setting the best foot forward."
The Random House Dictionary of Popular Proverbs and Sayings dates "Always put your best foot forward" to 1495, but provides no supporting evidence for that.
'Put your best foot forward' is rather an odd saying for us to use as it implies three or more feet. When I was at university studying maths, a lecturer worked out the answer to a student's question as 'two quarters'. He then corrected himself and said "we have a special name for that". Likewise, 'the best' is the name we give for something that surpasses all others. Something that surpasses one other is specifically called 'the better', as in one's wife being called 'one's better half'.
…
Shakespeare, not usually a stickler for linguistic exactitude, used a 'proper' form of the expression in King John, 1595:
"Nay, but make haste; the better foot before."
Now, let's read a few media examples to hammer the point home:


1. When Daniel Jones replaced Eli Manning as the New York Giants' quarterback in the third game of the 2019 season, former Auburn wide receiver Darius Slayton made his NFL debut. After a preseason plagued by a hamstring injury, Slayton tapped in as a pro with three receptions for 82 yards.
In 2022, both quarterback and wide receiver will be seeking to regain their rookie spark.
"The team has changed a lot over the last three years," Slayton said on Thursday. "Obviously, having that consistency of the guy that's throwing me the ball has been helpful for me, and, hopefully, I've been good for him and helpful for him as well."
Jones went on to throw for 3,027 yards and 24 touchdowns as a rookie. But he didn't reach that yardage total in either of the subsequent two seasons and had 21 touchdown passes combined in 2020 and 2021.
Jones missed the final six games of 2021 with a neck injury. The Giants declined their fifth-year option on the quarterback's contract this offseason, which will make him a free agent at the end of the 2022 campaign.
Slayton led New York with 740 yards on 48 receptions with eight touchdowns as a rookie. He led the Giants in receiving yards again in 2020 with 751 on 50 catches with three touchdowns.
But in 2021, Slayton missed four games and dropped to 26 receptions for 339 yards and two touchdowns. But he was the only New York wide receiver with more than one TD reception last season.
"Nobody has a perfect career. Nobody has a perfect game, perfect day," Slayton said. "So definitely in our line of work where you're catching all the time and everybody feels like they can catch a ball because they've thrown it in the backyard, so when you drop it you look like an idiot. Obviously, reality is we're all human, so definitely always have to keep a next-play mentality."
...
"At the end of the day, it's a performance-based business," Slayton said about his role in 2022, "so no matter how many numbers you have or you don't, if you perform the best, you'll be in whatever number it is. I believe in coming out here and putting my best foot forward. When it's all said and done, if I'm doing what I'm supposed to do, I'll be in there."
- Giants' Darius Slayton aiming to put his 'best foot forward' in 2022, AL.com, June 4, 2022.

2. The Denver Nuggets are doing their best to make quick work of the Minnesota Timberwolves after taking a 3-0 series lead in their Western Conference playoff series with Friday's 120-111 victory.
Speaking to reporters after the game, Nuggets star Nikola Jokić made it clear they don't want to leave any opening for the Timberwolves to get back in the series.
"We didn't wanna give them life," the two-time NBA MVP said. "We wanted to be the aggressor. We wanted to punch them first. They need to react to us. That was our plan. I think we did a good job."
After earning the No. 1 seed in the Western Conference for the first time in franchise history, the Nuggets are averaging 117 points per game through their first three wins.
Jokić put his best foot forward to ensure the Nuggets didn't give an inch in their first road playoff game of the series. The five-time All-Star recorded his seventh career playoff triple-double with 20 points, 12 assists and 11 rebounds.
Another good sign for the Nuggets going forward is they have been able to win these games without Jokić having to score a lot of points. He only scored 13 points in Game 1 and is averaging 20.0 points per game through the first three victories.
Jamal Murray had a 40-point outing in Game 2. Michael Porter Jr. scored 25 points on 10-of-17 shooting in Friday's victory.
- Nikola Jokić Says Nuggets Didn't Want to Give T-Wolves 'Life' in Game 3 Win, BleacherReport.com, April 22, 2023.

3. Kelsey Grubb has put her best foot forward and broken a record that not many can achieve.
The 32-year-old of Albuquerque, New Mexico, USA, has the largest foot rotation (female) and can turn her foot 171.4 degrees.
But how does one recognize they have such a unique talent?
"I work at a library and the newest world record book (2021) had just come out. A coworker was flipping through and randomly opened to the page with the largest foot rotation and said 'ew! That's so gross,'" said Kelsey.
Kelsey tried rotating her foot while standing on a piece of paper and realised it was pretty obvious that she had a good chance at smashing the record.
"I didn't know the details about how the measurement needed to happen," said Kelsey.
"But I thought I could no matter the details."
Although Kelsey didn't necessarily practise or prepare for the record attempt, she figure skates as a hobby and is constantly stretching her flexibility.
"I always knew I was flexible there but had assumed most people could turn their foot farther than 90 degrees out," she said.
- Woman breaks world record by rotating her feet back-to-front, GuinnessWorldRecords.com, May 2, 2023.
本文仅代表作者本人观点,与本网立场无关。欢迎大家讨论学术问题,尊重他人,禁止人身攻击和发布一切违反国家现行法律法规的内容。
About the author: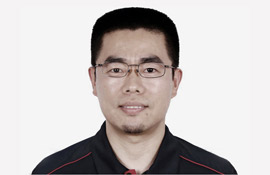 Zhang Xin is Trainer at chinadaily.com.cn. He has been with China Daily since 1988, when he graduated from Beijing Foreign Studies University. Write him at: zhangxin@chinadaily.com.cn, or raise a question for potential use in a future column.
(作者:张欣 编辑:丹妮)
中国日报网英语点津版权说明:凡注明来源为"中国日报网英语点津:XXX(署名)"的原创作品,除与中国日报网签署英语点津内容授权协议的网站外,其他任何网站或单位未经允许不得非法盗链、转载和使用,违者必究。如需使用,请与010-84883561联系;凡本网注明"来源:XXX(非英语点津)"的作品,均转载自其它媒体,目的在于传播更多信息,其他媒体如需转载,请与稿件来源方联系,如产生任何问题与本网无关;本网所发布的歌曲、电影片段,版权归原作者所有,仅供学习与研究,如果侵权,请提供版权证明,以便尽快删除。