China is known as the "Kingdom of Bicycles", with a world-record 470 million bicycles on the road.
As the nation pushes towards a "green" Olympics for next summer's Games, host city Beijing is trying to get more of its residents out of cars and onto bikes.
At China's prestigious Tsinghua University, you can bike anywhere for a couple of yuan in deposit.
A staff of Bike Rental Center said, "It just costs five yuan per hour, 20 yuan for a whole day, and 100 yuan for a year."
Besides the small cost, it's also convenient!
Six bike rental centers have been set up in Tsinghua's 400-hectare campus.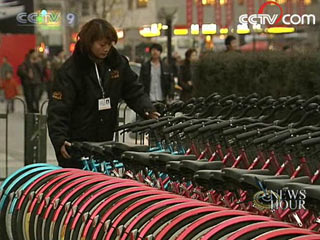 They are all linked with 50 centers in the renting-network scattered around Beijing.
That means the bikers don't need to go back to the campus to return the rented bicycles.
And outside Tsinghua, and along the roadsides of Beijing, the winter-chill hasn't slowed the "two wheel" business.
"It's good exercise and environmentally-friendly. I don't need to own a bike,I can just rent it. It saves a lot of time and work." said a bike renter.
But for the "two wheel" market, supply is not meeting demand.
So far, Beijing has about 70 bike-rental centers, mainly located in the downtown areas and tourist spots.
Wang Yong, manager of Bejing Bike Rental Program, said, "At an ideal level, we need 400 or 500 rental centers to cover main public transport terminals, including both bus and subway stations."
The Beijing municipal government is seeking public bids to run the bike rental network. Before the 2008 Olympic games, 200 service-centers are planned to be set up, with 50 thousand bicycles put into use.
bike-rental center:自行车租赁中心
(Source: cctv.com 英语点津姗姗编辑)