Bhutto supporters take to the street
[ 2007-12-29 16:02 ]
Bhutto supporters rallied in the streets of Karachi and Rawalpindi after her assassination.
Pakistan has put its paramilitary forces on red alert as angry backers of the slain former prime minister take to the streets across the country.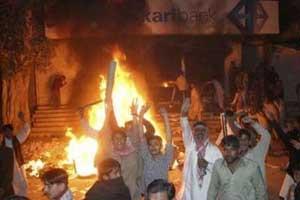 The unrest is the greatest in Bhutto's native Sindh province and its capital, Karachi.
Security is deteriorating in Karachi where thousands have poured onto the streets to protest. At least three banks, a government office and a post office have been set on fire.
Police say they have been ordered to block the main road between Punjab and Sindh provinces to stop the movement of protesters.
 (Source: cctv.com 英语点津姗姗编辑)