The U.N. Children's Fund has unveiled a treasure box of activities for very young children caught in emergencies. UNICEF says its new early childhood development kit is fun, stimulating and helps provide children in difficult circumstances a sense of normalcy.
The U.N. Children's Fund estimates 175 million children are affected by war and natural disasters every year. A large number of these children are six-years old or less. But, until now, only ad hoc recreational toys and materials have been available to help these very young children cope with their traumatic experiences.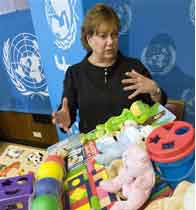 UNICEF Executive Director Ann Venemann says the new development kit provides young children with resources so they can play and interact with others.
"Studies show that early childhood is the most critical period for brain development, making young children the most vulnerable to the stresses brought on by war and disasters, such as hurricanes, floods and earthquakes," she said.
"Early experiences create a foundation for physical and mental health, optimal growth and lifelong learning, social emotional competencies and productivity. If there is a disruption in development, for example, through serious trauma that is not addressed early on, it could result in life-long development problems," she added.
The kit is a box containing 37 different items, for use by 50 children up to six years of age. Each kit costs $230 and is bursting with soft, pastel colored animal dolls. It also contains multi-colored puzzles, construction blocks, coloring pencils, memory games and even soap for promoting hygiene.
UNICEF says the activities are wide-ranging. They encourage development, social interaction and promote playing, drawing, and story telling.
Office of Emergency Programs Deputy Director Dermot Carty recalls the magical effect produced by a recreational kit upon the lives of children suffering the traumatic effects of the Indonesian tsunami.
"The children's lives changed immediately. I always remember when the box was opened and the response of the children," said Carty. "First of all they started looking at each other, looking for the box and then looking at each other and it resulted in smiles and then suddenly there was a rush for the box and then suddenly you had interaction. You had children laughing. They were running around. They were playing with each other ... And it was just an amazing experience to have been there to witness that. In a period of five minutes you could see the lives of 100 children changing almost in front of your face."
The kit was tested in Chad, Liberia, Congo Brazzaville, Jamaica, Guyana, Maldives and Iraq before being launched. Carty says UNICEF has 1,100 boxes ready to go to 18 countries and this number will grow.
(Source: VOA 英语点津编辑)