People in business believe in the old adage: "Word of mouth is the best advertising." Nothing beats unsolicited praise for you or your product--one customer to another and another and another...
Companies used to just HOPE for this kind of buzz. But now they're PAYING to stir it up--using something called viral marketing. Not a harmful virus like a worm that gets into your computer, but some outrageous stunt or offbeat campaign that gets people talking...about YOU! Viral marketing helped Molson become America's best-selling imported beer. It stuck labels with startling messages on its bottles. Let's get out of these wet clothes is one. Can I get your phone number? reads another.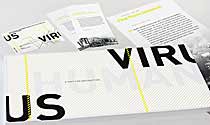 What's that have to do with beer? Nothing, directly. The company calls these slogans conversation starters to help men and women meet in bars. They meet, all right--and buy a lot of Molson beer.
The Burger King fast-food chain dressed someone up in a feathery yellow suit and called him the Subservient Chicken.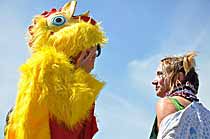 From anywhere on the Internet, you can command him to sing, dance, clean house, and perform other tasks. This Burger King blitz is supposed to make you think about getting chicken the way you like it. It's viral marketing in your face, as the saying goes, yet surprisingly subtle. You give orders to the Subservient Chicken--and laugh at the beer labels. And before you know it, you're washing down a Burger King chicken sandwich with a cold Molson beer.
Not-so-spontaneous word-of-mouth advertising--cooked up by somebody clever.
adage: a traditional saying that is generally accepted as being true 谚语;格言
buzz: gossip(谣言等)流传
stunt: something done to attract attention or publicity 引人注目的花招,噱头
offbeat: not conforming to an ordinary type or pattern; unconventional 不规则的,不按常理出牌的
Junk food is fooling people into overeating
British athletes pose nude for sports drink ad
(Source: VOA 英语点津编辑)