The United Nations has released a report that says mobile phone use is growing faster in Africa than anywhere else in the world. The report also says Internet connections have a long way to go.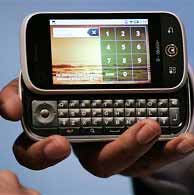 The mobile phone industry in Africa has defied the global economic crisis with a monumental boom in mobile subscriptions between 2003 and 2008. In five years the number of subscriptions grew by more than 500 percent.
Torbjorn Fredriksson of the U.N. conference on Trade and Development says the growth in mobile phone use is important in both a social and economic sense.
"Companies can use the mobile phones to obtain information about market developments, farmers can get information about weather forecasts and increasingly we see new mobile services emerging such as banking transactions and new ways of transmitting remittances between people and that has a very strong impact on the way that people and companies can do business in Africa," Fredriksson said.
He says in Gabon, the Seychelles, and South Africa there are 100 mobile subscriptions for every 100 people.
But he says mobile connectivity is not consistent throughout the continent.
In Burundi, Djibouti, Eritrea, Ethiopia, and Somalia, the mobile industry has only penetrated 10 percent of the population.
And he adds that while mobile phone use is rising, Internet access remains slow and costly.
"African countries are lagging behind not only developed countries, but also other developing regions in terms of fast access to the Internet," Fredriksson said.
The U.N. report says monthly Internet access in Burkina Faso, the Central African Republic and Swaziland is more than $1,300, the highest in the world. And only five countries - Algeria, Egypt, Morocco, South Africa and Tunisia - account for 90 percent of Africa's broadband subscriptions.
Fredriksson says a big problem is that up until now Africa has largely been excluded from the mesh of international fiber-optic cables that would carry telecommunications between Africa and the rest of the world.
But he says that seems to be changing.
"Now in July we saw Seacom, a new cable that links the east coast of Africa with Europe and India and there is another one called the TEAMS cable which will link Kenya with the United Arab Emirates later in 2009," Fredriksson said. "So these are promising signs but it remains a tremendous challenge to get the broadband connectivity up to the levels in other parts of the world."
While Internet access in Africa remains largely elusive, according to the U.N. report wireless Internet is spreading fast in other developing regions. India registered almost 100-million new wireless subscriptions in the first half of 2009.
remittance: the sum of money sent to someone at a distance 汇款
fiber-optic: of or relating to the science or technology of light transmission through very fine, flexible glass or plastic fibers 光纤的
Solar phones bring sunshine to businesses in Africa
Rural areas of Kenya get connected to the web
More people hear call of mobile activism
'Phones for Health' campaign targets AIDS in Africa
(Source: VOA 英语点津编辑)