This is the VOA Special English Economics Report.
In recent years, a shining city grew in the desert of Dubai on -- and even off -- the Gulf coast. An island shaped like a palm tree was built for hotels, homes and entertainment.
In October of last year the same developer announced plans for the world's tallest building yet. But the economic downturn soon forced the Nakheel company to suspend those plans.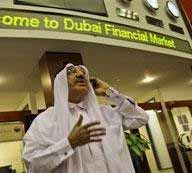 Dubai is in the United Arab Emirates, a 38-year-old federation of seven territories ruled by emirs. But, unlike its neighbor Abu Dhabi, oil has not fueled Dubai's growth. Oil is only six percent of its economy. Instead, the property and service industries have led its expansion.
Now Dubai finds itself in financial pain. And its reaction has some investors worried.
Last week, Dubai's largest investment company called for a six-month delay in paying some of its debts. Dubai World Group is seeking to renegotiate terms on 26 billion dollars in debt. All of it is linked to Nakheel, which is part of Dubai World.
The government owns Dubai World and will take control of its restructuring. But Dubai's finance chief said the government does not guarantee its debt.
Dubai World owes creditors a total of 60 billion dollars. The company is not an investment vehicle for the government like a sovereign wealth fund. It is a holding company for businesses in land development, port operations, energy and financial services. The group has used borrowed money for economic development.
Ghiyath Nakshbendi of American University in Washington notes that the problems are linked to a worldwide collapse in real estate prices.
GHIYATH NAKSHBENDI: "Emerging markets are as victim to the world meltdown as any other economy and there are no exceptions."
He expects the debt restructuring to be successful. He says Dubai and its leaders have too much to lose to let creditors -- like banks in Britain -- suffer losses.
Still, last week's announcement was a surprise. Now Dubai World is faced with selling properties at heavy losses to raise money. Some experts question how willing Abu Dhabi will be to rescue Dubai. Their relationship is sometimes tense.
Ghiyath Nakshbendi says Dubai World will have to change its ways.
GHIYATH NAKSHBENDI: "I think Dubai went a little bit too fast and they borrowed too much money in a very short period of time."
Of course, Dubai was not alone in gathering debt during the easy credit years. There are worries that the crisis could be the first of more to come in other parts of the world.
And that's the VOA Special English Economics Report, written by Mario Ritter. I'm Steve Ember.
emir: a prince, chieftain, or governor, especially in the Middle East 埃米尔(某些穆斯林国家的酋长、王公、统帅等的称号)
Global markets edge higher as Dubai's debt woes ease
Global financial instability expected to continue
World Bank gives bleak economic outlook for 2009
Nation urges more say in global finance
(来源:VOA 编辑:陈丹妮)