VOICE ONE:
I'm Steve Ember.
VOICE TWO:
And I'm Shirley Griffith with PEOPLE IN AMERICA in VOA Special English. Today we remember six interesting people who died in the past year. We begin with two writers.
VOICE ONE:
John Updike once said that people read fiction because it makes them feel less lonely about being a human being. This writer is best known for his novels about the private lives of small-town, middle class Americans. He wrote in a way that was extremely detailed, honest and direct. Over his long career, Updike wrote over 50 books including stories, poetry and essays. The 1968 bestseller "Couples" is about the unfaithful relations of several married couples. The sexual openness of the story was revolutionary at that time.
One of Updike's most famous series is about a man named Harry "Rabbit" Angstrom. The books are "Rabbit, Run", "Rabbit Redux", "Rabbit is Rich" and "Rabbit at Rest." They tell about the successes, failures and desires of one man throughout his life. Other works include "The Witches of Eastwick", "Brazil", and "The Centaur."
Over his career Mr. Updike won two Pulitzer Prizes and two National Book Awards. He died in January at the age of 76.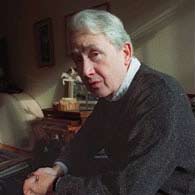 FRANK MCCOURT: "When I look back on my childhood I wonder how I survived at all. It was, of course, a miserable childhood. The happy childhood is hardly worth your while. Worse than the ordinary miserable childhood is the miserable Irish childhood. And worse yet is the miserable Irish Catholic childhood."
VOICE TWO:
That was Frank McCourt reading the opening lines of his book "Angela's Ashes", released in 1996. The Pulitzer Prize winning book tells about his difficult childhood growing up in Ireland. His mother struggled to raise her many children after his father left the family. Frank McCourt tells the story in a way that is expressive, warm and light-hearted.
Frank McCourt left Ireland at the age of 19 to return to New York City where he was born. He earned a degree in English education and taught creative writing for nearly 30 years. After retiring in 1987, he decided to write about his childhood. "Angela's Ashes" became a huge success and was later made into a movie. Frank McCourt wrote two more books about his life, "'Tis" and "Teacher Man." He died in July of cancer. He was 78.
(MUSIC)
VOICE ONE: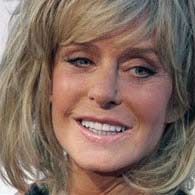 For many people, Farrah Fawcett was the face, body and hair of the 1970s. She had a big, bright smile and long, flowing, golden hair. Ms. Fawcett began her career appearing in television commercials for products to make hair and teeth beautiful.
She became internationally famous in 1976 for her role in the television series "Charlie's Angels." Soon, women around the world were copying her special hairstyle.
Farrah Fawcett spent much of her career working hard to prove that she was more than just a pretty face. She accepted difficult roles in serious television movies. In the 1980s, her performances in "The Burning Bed" and "Small Sacrifices" earned her Emmy Award nominations.
VOICE TWO:
Farrah Fawcett often received more attention for her troubled private life than for her work as an actress. Her son, Redmond O'Neal, was jailed for drug use. In 1995 at the age of 50, she received a great deal of attention for being photographed without clothes in a magazine.
In 2006, Farrah Fawcett learned she had cancer. She used her fame to raise awareness about the disease. She used a video camera to document her battle. The recordings were made into a television program called "Farrah's Story." She died in June at the age of 62.
(MUSIC)
VOICE ONE: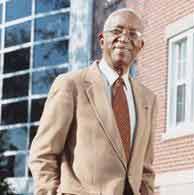 John Hope Franklin was a respected historian and social activist. He wrote about race and the struggles of black Americans. His book, "From Slavery to Freedom: A History of African-Americans," was first published in 1947. It is widely considered the leading book on the subject.
Mr. Franklin grew up in the state of Oklahoma where his father was a lawyer. His family experienced the terrible reality of hatred and discrimination when he was a young boy. His father's property was destroyed during the race riots in Tulsa in 1921. Events like this one shaped how Mr. Franklin would later work to fight racism.
VOICE TWO:
John Hope Franklin studied first at Fisk University then at Harvard University, where he earned master's and doctorate degrees. His careful research helped the lawyer Thurgood Marshall win a historic case in 1954. The Supreme Court decision in Brown versus the Board of Education made racial separation illegal in schools.
Mr. Franklin accepted a teaching position at Brooklyn College in New York. He became the first African-American to lead a history department at a mostly white college. He later taught at top universities including Duke, Harvard and the University of Chicago.
His other publications include "The Emancipation Proclamation" and "Reconstruction after the Civil War." In his book "The Color Line", he wrote that the problem of race has been part of America since its creation. And, he said it remains the most tragic social problem in the country's history.
(MUSIC)
VOICE ONE:
Abe Pollin was a property developer best known for his love of sports. He brought professional basketball and hockey to his hometown of Washington, D.C. He also donated millions of dollars to help others.
Abe Pollin began his career working for his family's building business. The company made a great deal of money buying land and building houses after World War Two. Mr. Pollin later started his own business developing large apartment buildings.
He named the Linda Pollin Memorial Housing Project after one of his two children who died of heart disease. This apartment building was in an African-American neighborhood. Its large rooms and affordable rent gave middle class black people a new kind of housing opportunity in the 1960s.
VOICE TWO:
In 1964 Abe Pollin bought a failing basketball team from Baltimore, Maryland and brought it to his hometown. He named it the Washington Bullets, now called the Washington Wizards. He also built a sports center in Landover, Maryland for this team and the hockey team he owned called the Washington Capitals. In the 1990s, Mr. Pollin used his own money to build another sports center in downtown Washington. The sports arena, now called Verizon Center, brought new life to this area of the city.
Abe Pollin gave money to many causes including the United Nations Children's Fund and research for children's medicine. He died in November at the age of 85. He was days away from starting to build a large new affordable housing project in his beloved city of Washington.
(MUSIC)
VOICE ONE: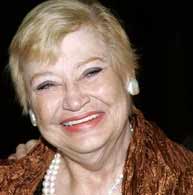 Mary Travers was a folk singer who performed with the group Peter, Paul and Mary. The other members were Peter Yarrow and Paul Stookey. The group was extremely popular in the 1960s. Some of their hit songs include "500 Miles", "Puff the Magic Dragon" and "If I Had a Hammer." Their singing style was very direct and emotional.
The three were very open about their political beliefs. This was unusual for such a mainstream, commercial group. Mary Travers was a strong supporter of the civil rights and anti-war movements of the 1960s. Many other successful music groups during this period avoided making political statements.
VOICE TWO:
Peter, Paul and Mary often performed at demonstrations and political gatherings. In 1965, they took part in marches in Alabama to support voting rights for African-Americans.
Miz Travers did not intend to become a professional singer. Folk singing was something she did for fun. Her fear of appearing in public made performing difficult. But, a music industry expert thought she would be a good fit with the trio he was organizing.
Peter, Paul, and Mary stopped singing together in 1970. Mary Travers continued performing and making records on her own. Sometimes the trio would reunite, often for performances that brought attention to political issues. Mary Travers died in September at the age of 72. Paul Stookey published a message on her Web site after her death. It said he was honored beyond his wildest dreams to have shared her spirit and her career.
(MUSIC)
VOICE ONE:
This program was written and produced by Dana Demange. I'm Steve Ember.
VOICE TWO:
And I'm Shirley Griffith. You can learn about other famous Americans on our Web site, voaspecialenglish.com. Join us again next week for PEOPLE IN AMERICA in VOA Special English.
Louis Kahn helped define modern architecture
Charles Schulz wrote "Peanuts" for 50 years
Betty Friedan: a leader of the modern women's rights movement
Les Paul's electric guitar and inventions changed 20th century popular music
(来源:VOA 编辑:陈丹妮)