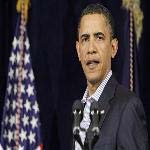 U.S. President Barack Obama said Tuesday that a "systemic failure" in security allowed the attempted Christmas Day attack on a Northwest Airlines flight. Mr. Obama said information that could have prevented the would-be bomber from boarding the plane did not get the attention it deserved.
President Obama said Umar Farouk Abdulmutallab should have been on a list of individuals banned from U.S. flights.
The president said information about Abdulmutallab - including a warning from the suspect's father - was not handled properly.
"When our government has information on a known extremist and that information is not shared and acted upon as it should have been so that this extremist boards a plane with dangerous explosives that could have cost nearly 300 lives, a systemic failure has occurred. And I consider that totally unacceptable," he said.
The president acknowledged that it might take weeks for investigators to uncover all of the facts related to the attempted attack. But he said the failures that led to a potentially catastrophic breach in security must be addressed immediately.
"We need to learn from this episode and act quickly to fix the flaws in our system because our security is at stake and lives are at stake," he said. Mr. Obama said he is willing to give all those involved in intelligence, counterterrorism and homeland security the resources they need.
But he noted it is also his job to ensure that these agencies work efficiently.
"I intend to fulfill that responsibility and insist on accountability at every level," he said.
Mr. Obama's comments marked the second time in two days that he interrupted his vacation in Hawaii to talk about the attempted attack.
His initial remarks on Monday were leveled largely at those involved in the plot. His latest statement focused on the need to correct flaws in the aviation security system that allowed the would-be bomber to board the Detroit-bound flight in the first place.
Mr. Obama again stressed that a review of security procedures is underway. He said he expects preliminary results by Thursday. And he made clear that action will be taken.
"We have achieved much since 9/11 in terms of collecting information that relates to terrorists and potential terrorist attacks. But it is becoming clear that the system that has been in place for years now, is not sufficiently up-to-date to take full advantage of the information we collect and the knowledge we have," he said.
The two security reviews ordered by the president in the wake of the foiled attack are looking at airport security procedures and the computerized lists used to detect high-risk individuals.
Britain confirms alleged airline bomber was on watch list
Italy to beef up security after Berlusconi assault
US and Russian officials work on new arms control treaty
(来源:VOA 编辑:陈丹妮)