Yi Ren in English 艺人的英语表达
Which is the exact word to describe the Chinese word yi ren (艺人) which refers to a person who can sing, play in TV drama programme and movies, and host TV programmes? Thanks.
A friend of bbcukchina.com
It seems that the Chinese term 艺人 can refer to many different jobs in the world of entertainment in the Chinese context. However, this may not be the case in English.
Both fortunately and unfortunately there isn't a single English word to convey all the meanings of the Chinese term yi ren 艺人.
Perhaps the word that is closest in meaning to 艺人 is entertainer.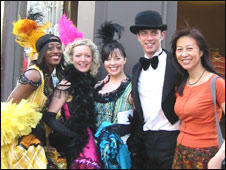 But as you will hear from both language experts and two entertainers, there are separate words to describe different jobs within the realm of entertainment. For example a singer, a dancer or a street performer can all be regarded as entertainers.
This programme explores the rich vocabulary of the English language.
To find out more about the various translations for yi ren 艺人 just put on your headphones and click the listen button.
Don't forget, if you have a question about English, email it to questions.chinaelt@bbc.co.uk. We may answer it on this programme.
Glossary 词汇
the realm of entertainment 娱乐界
well represented 得到充分体现的
various 各种各样的