Ain't 没有
I wonder what the word ain't means? And for instance, what does Ain't No Sunshine mean? I am looking forward to receiving your letter, thank you very much.
Erica, China
How many songs can you think of that have the word 'ain't' in the title?
Ain't No Sunshine
I Ain't Got Nobody
Ain't No Mountain High Enough
The list goes on and on.
There are many words that English-speaking people use, that you may hear in songs or films but that you aren't taught in your classroom.
One of the most important examples of this kind of word is ain't.
It's a word that can be heard all over the English-speaking world and in all kinds of media so why is it that your teacher hasn't told you about it?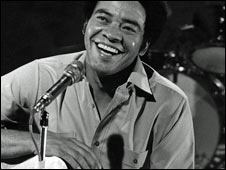 And why is it that people in the UK might recommend that you don't use this word?
Join Diarmuid and Yang Li as they explore the meaning and use of this common but troublesome word.
Don't forget, if you have a question about English, email it to questions.chinaelt@bbc.co.uk. We may answer it on this programme.