Doing your homework 做调查研究时的词语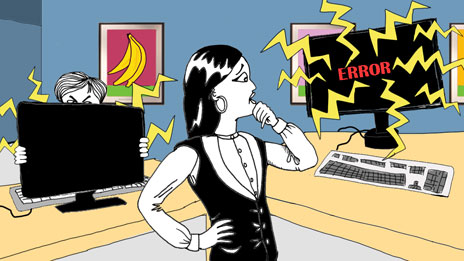 Episode 43:Language to use when carrying out research 做调查研究时用的词语
Tom may have not had the dinner date with Anna that he was expecting but for Anna it was a huge success. She came up with an idea for a new plastic vegetable but now she needs to research her idea before she has to pitch it to Paul, the boss.
听力挑战
Anna 打电话咨询的第一家公司是销售什么产品的?


答案在文字稿的最后一页。


Glossary 词汇
This week's programme focuses on the language that you might use in researching new ideas by asking the opinions of your customers:
Phrases from the programme:
Could I ask for your opinion on a new product we are hoping to develop?
我能向您咨询一下您对我们准备研发产品的看法吗?
What plastic products do you currently use?
您现在用了哪些塑料水果?


What products would you like to see us sell in the future?
您希望我们将来能提供什么样的产品?
How do you feel about the idea of selling plastic vegetables?
您对我们打算卖塑料蔬菜这个想法怎么看?
Any particular vegetable you would like to see?
有没有您特别希望我们生产的塑料蔬菜?