Tom's tantrum 汤姆发脾气了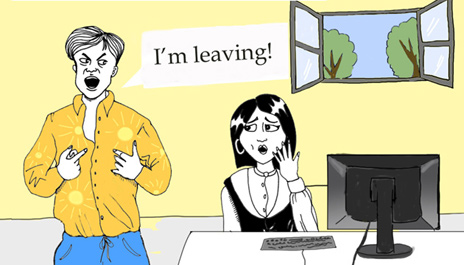 Episode 63: Language to persuade someone to change their mind 说服某人改变主意的短语
There's some confusion at the offices of Tip Top Trading. Anna has announced that 'yes' she will accept Mr Socrates's offer of a promotion but Tom thinks she is accepting his marriage proposal. How will he react when the penny drops - or in other words when he finds out what she really means?
听力挑战
Tom 说他要离开公司时用的是哪个词儿?

(答案请看文字稿)
Phrases from the programme 本节目中出现的短语:
Don't be too hasty.
Don't rush into making a decision.
We can work this out.