Acting up 临时领导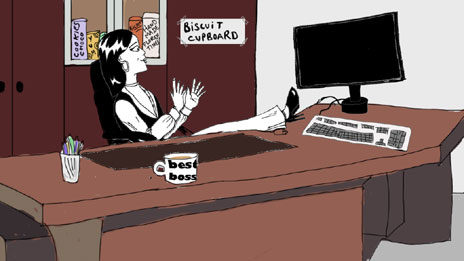 Episode 46: Language to use when you're in charge 当领导时应用的语言
Last time we heard Anna pitching her new plastic aubergine idea to Paul, in a lift. He was on his way to a biscuit-lovers' convention and didn't have much time. She gave the perfect elevator pitch and now it's down to Paul to give her idea the go ahead. But the problem is, he seems to have gone missing.
听力挑战
如今 Anna 当了领导,Denise 想多做哪方面的工作?
答案在文字稿的最后一页。


Glossary 词汇
This week's programme focuses on the language that you might use when you have to 'act up' as the boss.
Phrases from the programme:
If anyone has any issues about their work please come and speak to me.
任何人有工作上的问题,请随时告诉我。
I would like to have a meeting to discuss our work.
我要召开一个会议和大家讨论一下我们的工作。
If there is anything you want to ask, my door is always open.
有什么需要,我的办公室门永远是敞开的。