A Freak Goal 一个反常的进球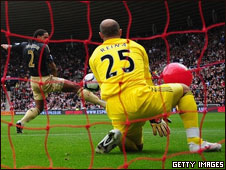 'Anything can happen in this game' is an old cliché 陈词滥调 favoured by football commentators, but every now and then a game turns on 转变成,演变成 something that no-one could have predicted 预料.
So it was on Saturday in the Premier League clash between Sunderland and Liverpool FC. In the fifth minute, a shot from Sunderland's Darren Bent deflected 偏斜,转向 off a large beach ball at the edge of the six-yard box.
What was the beach ball doing on the pitch? It had been thrown on by a Liverpool fan – an ironic twist 让人啼笑皆非 particularly savoured 回味无穷 on Wearside 桑德兰地区.
We had bad luck with the goal, but the team were not doing well so that is something we have to fix. The other things you cannot control. I couldn't see what had happened. We were asking and after they told us but you cannot change things.
Rafael Benitez, Liverpool FC Manager
Liverpool goalkeeper Pepe Reina found his eyes initially drawn to the path of the red beach ball and was wrong-footed 站错位置,乱了阵脚, unable to make the save.
Controversially 有争议的, referee Mike Jones allowed the goal to stand 保持有效. Sunderland went on to win the match 1-0 against a lethargic 没精打采的 Liverpool, who seemed to be missing injured midfielder Steven Gerrard and striker Fernando Torres.
Sunderland's victory means the Black Cats move to seventh place in the table 排行榜, ahead of Liverpool. The Reds have now lost four matches this season.
Despite this, Liverpool manager Rafael Benitez refused to blame their latest defeat on the freak goal. With some equanimity 平静, he observed "You cannot change things".
But technically, the goal should not have been allowed. The Fifa rules clearly state, "The referee stops, suspends 暂停 or terminates 中止 the match because of outside interference 干扰 of any kind."
I didn't even know the rule… so one's gone our way. It's one of them things, we won the game, in my opinion we deserved to win the game, but that's obviously helped our cause. If you really know that rule then you are a little bit sad.
Steve Bruce, Sunderland Manager
Most referees would probably consider a beach ball an example of outside interference, and award a dropped ball 落球进门.
But Sunderland's manager Steve Bruce said that if you knew that rule you were "a little bit sad". Sad is here an informal and slightly rude term for someone who doesn't have many friends and enjoys being at home by himself – possibly reading books of rules.
Although Bruce said his side deserved to win 应该赢的, he conceded that luck also played a part by saying "One's gone our way".
Towards the end of the match, Benitez and Bruce exchanged angry words, with the Spaniard accusing Sunderland of time-wasting 浪费时间. Bruce later brushed the altercation aside 对争辩一事轻描淡写带过 , saying "It was handbags. It's all over, it's done."
By saying "It was handbags" Bruce is comparing the incident to two women hitting each other with their handbags, implying it wasn't a serious falling-out 不和.
Other Bizzare 奇怪的 Goals
Sheffield United won 2-1 against Manchester City in January 2008 when City goalkeeper Michael Ball was wrong-footed by the ball bouncing off a stray 失散的 balloon.


In 1996, Stan Collymore scored an unexpected goal for Liverpool against Blackburn. The striker's tame 普通的,乏味的 left-footed effort struck a divot ( 击球时削起的) 一块草皮 on the six-yard line and skipped over the goalkeeper's shoulder into the net.