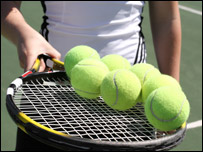 Chinese pair win Wimbledon
China has won its first ever Wimbledon trophy with athree set victoryby Yan Zi and Zheng Jie overveteran duoVirginia Ruano Pascual and Paola Suarez in thewomens' doubles.

Thefourth-seededChinese pairmade historyby destroying their opponents 6-3, 3-6, 6-2 in a game lasting two hours and eight minutes. They will share £205,280 inprize money.
Zheng Jiesummed uptheir achievement after the game. "We are very happy andproudto be the first Chinese Doubles Champions at Wimbledon", she said, "It has been a very good year for us and we hope to keep winning more titles in the future."
Zheng Jie has every reason to be happy and proud – the Wimbledon win takes her career prize moneyearningsto over $1 million.
Their Wimbledon success follows theirimpressive performancein the Australian Open in January of this year when they became the first ever Chinese players to win aGrand Slamcompetition.
Zheng Jie and Yan Zi are not alone inraising the profileof Chinese tennis players internationally. Li Na managed tobattle her wayto the quarter-finals of the women's singles competition beforeconceding defeatto Belgium's Kim Clijsters.
It seems that winning gold medals in the 2004 Athens Olympics hasstimulated the developmentof Chinese tennis, in particular women's tennis.
Gu Jue from Shanghai TV explains, "The Chinese governmentinvestsmore in women's tennis because they have to choose a way to makeimprovements, but men's tennis is much morecompetitive. It's much easier to make improvements in women's tennis."
With six Chinese women playing in this year's Wimbledon, surely it is onlya matter of timebefore the menmake their marktoo.