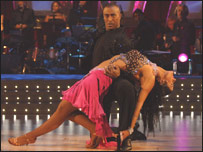 Famous former British athlete Colin Jackson learns to dance
Ballroom dancing in the UK used to be seen as something rather unfashionable that old people might do. For the past five years though, the popularity of ballroom dancing has soared thanks to a reality TV show.
Strictly Come Dancing is one of the BBC's big TV shows. Millions of people tune in every Saturday night to watch the show which airs from September right up to Christmas.
In the show a number of professional ballroom dancers each partner up with a celebrity. Every week they have to learn a different ballroom dance and perform it live on TV on the Saturday night.
Four judges, all of whom have a background in professional dance, give the celebrities scores and comments about their dances. It is then up to the public to call in and vote for their favourite couple. The two least favourite then have to dance again and the judges decide who stays in the competition and who leaves.
The show demonstrates how glamorous ballroom dancing is. The celebrities get to wear colourful dresses and sequinned suits to dance in, and it looks like a lot of fun.
The TV programme also shows what good exercise it can be to ballroom dance and what hard work is involved in learning the dances and performing them properly.
Dance schools around the country have seen a boost in the number of people wanting to learn how to dance. And it's not only older people who are interested. Lots of children and young people in their 20s are keen to learn.
The format for the show has been copied in lots of countries around the world. In America, the show is called Dancing with the Stars and at the moment Mel B from the Spice Girls is doing very well in the show. In the British show there are famous TV presenters, former sportsmen and even rock star Rod Stewart's wife, photographer Penny Lancaster, is taking part.
So you can forget your usual exercise – why not learn a foxtrot, a tango or a jive or for the less energetic, a waltz perhaps. It's the trendy thing to do!
GLOSSARY 词汇表 (收听发音, 请单击英语单词) 

下载相关辅导材料(PDF格式)
下载材料中不仅包括阅读,词汇,语法等练习,还有单词搜索等游戏。帮助你英语读写能力,了解相关的背景知识和语言环境。