Athletics World Championships 世界田径锦标赛
Usain Bolt Makes History… Again 博尔特再破世界纪录
It's happened again. The world's fastest man has destroyed the field to take gold, this time in the men's 100 metres final at the Athletics World Championships in Berlin.
Usain Bolt shaved 0.11 seconds off the record he set at the 2008 Olympics, clocking just 9.58 seconds in a new world record. His feat represents the biggest jump in the record since electronic timing was introduced in 1968.
After the race, the cool-as-a-cucumber Jamaican expressed satisfaction with his performance, but indicated that he could go faster still – perhaps as fast as 9.4 seconds.
"I think it will stop at 9.4 but you never know," he said. "I don't run for world records. I'll just keep on working."
Usain Bolt's fortuitous surname is a gift for English language sports writers everywhere. He has been dubbed 'The Bolt', a pun on lightning bolt.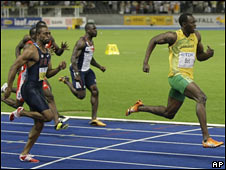 They say lightning never strikes twice in the same place, but there is every chance that The Bolt will strike again later this week, when he will try to break the 200 metres world record he set in Beijing.
British sports fans have also had cause for celebration as Jessica Ennis won gold in the heptathlon, which she led from the start. She told BBC Sport:
"It's been the longest two days of my life but the best. I've dreamt so many times about winning medals and becoming world champion, doing a lap of honour… it's such an adrenaline rush and such an amazing feeling."
Phillips Idowu clinched Britain's second gold on Tuesday in the triple jump event. He edged out Portugal's Nelson Evora, who pipped Idowu in Beijing.
Notwithstanding the absence of Liu Xiang, China has enjoyed some success with a silver medal for Wang Hao in the 20km race walk. Liu Hong won bronze in the women's competition of the same event and Gong Lijiao also won a medal in the women's shot put.
Glossary 词汇表 (收听发音, 请单击英语单词)