The Greatest Magician? 最伟大的魔术师?
英语学习点: Magic Tricks 魔术技法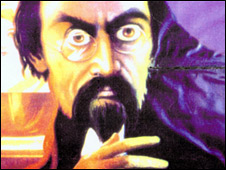 Edinburgh has been remembering one of the world's greatest magicians.
The Great Lafayette was the stage name of the German illusionist Sigmund Neuberger. At the time of his death a century ago he was the world's highest-paid performer and 250,000 people went to his funeral.
Lafayette's grand finale was a famous stunt called The Lion's Bride. A female assistant would walk into a cage containing a real lion. When the lion was about to kill her, its skin would be pulled off to reveal… The Great Lafayette.
Of course it was all done with smoke and mirrors, as well as Lafayette's great sleight of hand. But on 9 May 1911 something went horribly wrong.
Halfway through his routine, a gas lamp was knocked over and the stage scenery caught fire. The audience all thought it was part of the act and refused to leave the theatre until the band played the national anthem.
Lafayette died along with 10 other people, a horse and the famous lion. But he continued to play tricks on people even after his death.
Three days after the fire, another body was discovered in the theatre wearing Lafayette's clothes. This, it emerged, was the magician himself; the first body had been that of an assistant.
One hundred years on, the great magician continues to work his magic. Last weekend, the Edinburgh Festival Theatre hosted a series of special events in honour of the magician, including a séance.
Glossary 词汇表 (收听发音, 请单击英语单词)