Are models too slim? 模特儿们都太瘦了吗?
Vocabulary: Body image 词汇:身体形象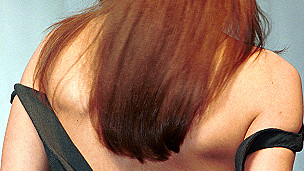 When they talk about fashion in Paris, the world listens. Let's see if that remains the case when the conversation is about skinny models. France has unexpectedly adopted a law making it a criminal offence to employ very thin women on the catwalk.
The law, which is part of a broader Health Bill, requires models to show they have a Body Mass Index (BMI) above a particular level. The World Health Organisation says people whose BMI is below 18.5 are underweight and at risk of being malnourished.
And the buck stops with modelling agents. They face fines and six months in jail if they break the rules.
The proposal was tabled by Olivier Veran, an MP who is also a neurologist. He said: "This will help protect our adolescents at risk, because teenagers are under social pressure from the image these models convey to always be thinner and thinner."
The measure tries to address the issue of body image in a country where an estimated 40,000 people suffer from anorexia. And 90% of those affected are women and girls.
But the fashion industry is not happy. Their arguments against the ban question the health case but also say it's bad for business. France's agencies union Synam says that the law confuses anorexia with some people's natural tendency to be very thin. It also says: "French model agencies are constantly in competition with their European counterparts. As a result, a European approach is essential."
France's new law may make fashionistas finally stop and think about the unhealthy side of the industry, but the country is not a pioneer when it comes to imposing limits on models' weight. Israel adopted a similar ban in 2013 and Spain and Italy have set some voluntary standards on the issue.