Chinese archeologists believe an ancient tomb discovered four years ago may be that of the third and last emperor of the Qin Dynasty (221-206 BC).
The tomb is the second largest after the mausoleum of the first Qin emperor, Qin Shihuang. It was found in 2003 when an archeological team was excavating near the first emperor's tomb. Archeologists have since been trying to identify its occupant.
"The only possibility for such a high-ranking tomb here encourages us to believe it must be Zi Ying's, the last emperor of the Qin Dynasty," the archeologist and former curator of the Qin Shihuang Terracotta Warriors and Horses Museum in Lintong, Yuan Zhongyi, was quoted as saying by Xinhua.
The tomb has tunnels running north and south, up to 109 m long and an underground room at a depth of 15.5 m.
Located some 500 m west from the outer wall of Qin Shihuang's burial chamber, the second largest tomb contains a number of cultural relics from the Qin Dynasty.
"This has to be Zi Ying's tomb, as the burial chambers of all the other Qin rulers have been found," said Yuan, who has been researching the Qin terracotta warriors and horses since they were discovered in 1974.
It seemed natural and fitted in with what was known of the ancient funeral system that Zi Ying - the son of Qin Shihuang and brother of Qin Er Shi, second emperor of Qin Dynasty - was buried next to his father.
Zi Ying was an emperor of a conquered empire and was only in office for 46 days. "He was buried hastily after his death, so his tomb has been difficult to find," Yuan said.
Qin was China's first feudal dynasty. From Qin Shihuang (259-210 BC) to Zi Ying (his birth date and death are unknown) was a critical period in Chinese history and a time when the multi-ethnic country was unified under a centralized authority.
Qin Shihuang has a central place in history for being the emperor who united the country and started to build the Great Wall and had an army of clay warriors and horses buried with him to help him rule in the afterlife.
The terracotta army buried around Qin Shihuang's mausoleum was one of the greatest archeological finds in modern times.
(China Daily 09/29/2007 page 3)
Questions:
1. What year was the new tomb found?
2. How deep is the tomb's underground room?
3. In Chinese history, what three things is Emperor Qin Shihuang most remembered for?
Answers:
1. 2003.
2. 15.5 metres.
3. Uniting China, starting to build the Great Wall and the terracotta warriors and horses.
(英语点津 Linda 编辑)
About the broadcaster: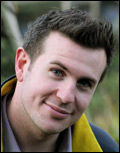 Marc Checkley is a freelance journalist and media producer from Auckland, New Zealand. Marc has had an eclectic career in the media/arts, most recently working as a radio journalist for NewstalkZB, New Zealand's leading news radio network, as a feature writer for Travel Inc, New Nutrition Business (UK) and contributor for Mana Magazine and the Sunday Star Times. Marc is also a passionate arts educator and is involved in various media/theatre projects in his native New Zealand and Singapore where he is currently based. Marc joins the China Daily with support from the Asia New Zealand Foundation.