China, Japan in talks over Fukuda's visit
[ 2007-12-19 11:36 ]
China and Japan are actively making preparations for Japanese Prime Minister Yasuo Fukuda's upcoming visit, said Foreign Ministry spokesman Qin Gang  yesterday. He did not confirm media reports that the four-day trip is set to start on December 27.
"Prime Minister Fukuda expressed his hope of visiting China late this year or early next year. The two sides are actively discussing the issue. Once the date is fixed, we will release the information in due course," Qin told a regular news briefing.
Japanese media yesterday quoted government sources as saying Fukuda will make his first visit to China as prime minister on December 27 - three months after taking office. The trip will reaffirm with Chinese leaders the goal of strengthening collaboration in economic, energy and environmental sectors.
Fukuda is considering visiting Qufu, the hometown of Confucius, and other Chinese cities during his four-day visit, Japanese media reports said.
In foreign ministerial-level talks between the two sides in Beijing this month, Japanese officials expressed the hope that a resolution to long-lasting disputes over gas exploration in the East China Sea would be the focus of Fukuda's visit.
Beijing and Tokyo also hope to schedule a visit by President Hu Jintao to Japan next spring.
(英语点津 Celene 编辑)
About the broadcaster: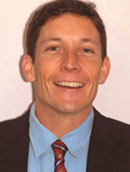 Brendan is an Australian who has been involved in education and writing for over a decade. He has published most recently for the Tiger Airways Inflight magazine, The Bangkok Post, The Taipei Times and Japan's Hiroshima Outside Magazine. He holds a Masters Degree in Community Development and Management and has resided in China for over 3 years.