By Patrick Whiteley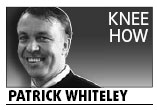 Winning the paperwork war in China is a challenge that can test an expat's temperament and I was pushed to the limit last week at the counter of a Beijing bank.
Frustrations began to boil over when my Chinese translator friend said to me: "Do you want me to fill out the form? Maybe I can do it better."
"What do you mean?" I moaned. "This form is in English."
After five attempts, I had failed to correctly fill out the Western Union money transfer form despite the fact it was in my native language.
My house back home needs major repairs and I was forced to send back $7,000 - the maximum transfer amount Western Union allows - to pay Fast Eddie the Roofer from Ironbark, Australia.
But there were more holes in my application form than there were in my broken roof.
(One), I didn't use capital letters throughout, (two) I didn't include my father's middle name, (three), I didn't write down my middle name, (four) I kept writing outside the little boxes, and (five) I forget what five was for.
My Chinese friend was right. She could have filled out the form better than me in her second language.
After mustering the concentration of a brain surgeon, I completed the sixth form and passed the all-important paperwork under the bulletproof glass to the teller.
Tasks that take about 15 minutes back home, often take more than an hour in China.
Thank goodness for my Chinese friends who help me weave my way through the maze of banking bureaucracy, and other areas of daily life in the Middle Kingdom.
Sometimes I like being self-sufficient but there is a price to pay when dealing with a mountain of paper work.
Although many banks, and other institutions, now have English-speaking staff, most do not and as I now know the paperwork must be 100 percent correct.
I remember the drama when I applied for my Chinese driver's license. The checklist included a passport, residence permit, original driver's license, medical certificate, and five photographs.
I now know to get the pictures first. I had gone to the hospital for my medical certificate first only to be sent away to get the photos.
Then I discovered the 2.5 cm by 2.5 cm pictures required white backgrounds. I had selected blue, because it was my favorite color, but this was a mistake.
I also selected the wrong photo size. I thought passport size was standard but the license photo needed to be smaller.
Paper work can be baffling, but it can also be used to your advantage, especially if you don't want to be bothered by the boss.
My Sydney buddy often decided by mid-afternoon he was done working for the day so he used paperwork as a cover for his shirking.
Barry would walk to the printer, take out whatever was in the in-tray then walk quickly past the managers, reading the thick wad of papers in his hand.
Sometimes he would take out a pen and write something on the blank papers, as if he was correcting something.
The bosses would look up and see busy Barry, and think: "That's what we like to see, someone who's doing the paperwork."
But Barry was letting the paper work for him.
(China Daily 12/01/2008 page8)
我要看更多专栏文章