1750 Before Industrial Revolution, atmosphere holds 280 ppm of heat-trapping carbon dioxide (CO2).
1898 Swedish scientist Svante Ahrrenius calculates that CO2 from coal and oil burning will warm the planet.
1955 US scientist Charles Keeling finds atmospheric CO2 has risen to 315 ppm.
1971 First international conference on climate change is held in Sweden.
1986 Atmospheric CO2 reaches 350 ppm.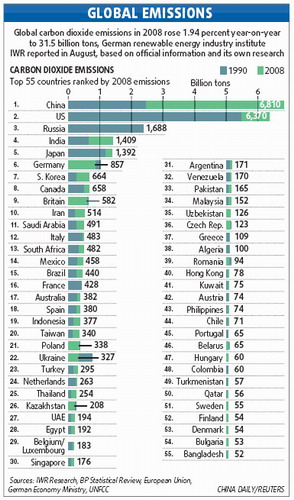 1988 NASA scientist James Hansen tells US Congress global warming "is already happening now".
1988 UN creates the Intergovernmental Panel on Climate Change (IPCC), a clearinghouse for climate science.
1990 IPCC issues its First Assessment Report, noting Earth is warming.
1992 Climate treaty sets voluntary goals to lower CO2 and other greenhouse gas emissions.
1995 IPCC's Second Assessment Report says the "balance of evidence suggests a discernible human influence on global climate".
1997 Climate treaty parties approve Kyoto Protocol ordering emission cuts by industrial nations; approach rejected in advance by US Senate.
1998 Warmest year globally since record-keeping began in mid-19th century.
2001 IPCC's Third Assessment Report cites "new and stronger evidence" that mankind is altering climate.
2001 US President George W. Bush renounces Kyoto Protocol.
2004 Russia ratifies Kyoto Protocol, bringing it into force in February 2005.
2007 IPCC Fourth Assessment Report says most warming is "very likely" due to manmade emission. Report shows global temperatures rose 0.74 degrees C from 1906 to 2005.
2007 IPCC and former US Vice President Al Gore win Nobel Prize for their climate work.
2007 In Bali, annual UN climate conference agrees on two-year timetable for successor agreement to Kyoto.
2009 Atmospheric CO2 hits a record 390 ppm.
2009 Delegates of 192 nations prepare for a crucial annual UN conference in Copenhagen, Denmark.
(来源:AP,编辑:Julie)