洛杉矶银河队7月17日称,"万人迷"贝克汉姆因左脚踝肿痛未愈,可能无缘银河队与切尔西队的比赛,其"处子秀"将推迟。银河队老板拉表示:小贝缺席将对球市产生巨大影响,预先买空此次比赛门票的球迷肯定会失望。谁都知道,这些门票是奔着小贝来的。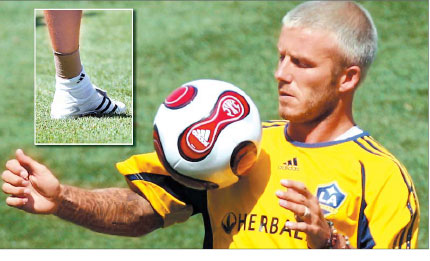 David Beckham trains at his first official soccer practice session for the Los Angeles Galaxy at their stadium in Carson, California on Monday. Inset: The injured left ankle of Beckham is seen as he trains on Monday.
British soccer star David Beckham, who joined the Los Angeles Galaxy club last week, may fail to make his scheduled Galaxy debut this weekend because of an injured ankle, the Los Angeles Times reported Tuesday.

Beckham, one of the world's most celebrated soccer players, was scheduled to make his long anticipated debut for the Galaxy against Chelsea at the Home Depot Center in Los Angeles, but his left ankle is swollen and sore, according to the newspaper.
For Beckham tosit outSaturday's matchup would be a disappointment for thousands of fans. The Galaxy announced over the weekend that the match against Chelsea -- with tickets priced from 60 to 500 dollars -- was asellout.
Beckhamdonneda Galaxy uniform for the first time Monday but did not participate fully in the team'sworkout. He did 45 minutes of very light work, either alone with trainer Ivan Pierra or in conjunction with injured defender Chris Albright, according to the report.
Beckham injured the ankle while playing for England in a Euro 2008qualifying gameagainst Estonia in early June and was still suffering the effects when he helped Real Madrid win the Spanish league championship on June 17.
He has not played a game since then but did start working out on his own while on holiday in the south of France.
Galaxy coach Frank Yallop said that Beckham's flight to Los Angeles from England on Thursday had not helped matters, and his ankle had swollen because of the flight and possibly because Beckham had started running on it "maybe a little bit too soon."
"With ankles, they do tend to clear up pretty quickly, if there' s no structural damage, which there isn't," Yallop said. "It's just that swelling and that soreness that he's got to get out of his system."
(Agencies) 

Vocabulary: 
sit out:观战,不参加(比赛)

sellout:座无虚席

don:穿上(队服)

workout:训练

qualifying game:预选赛

(英语点津陈蓓编辑)