在周三举办的网上慈善拍卖会上,一件戴安娜王妃参加1987年戛纳电影节时穿的淡蓝色礼服遭冷遇。10天前,这件丝绸无吊带紧身礼服被放在eBay网上拍卖,开价12万5千美元。然而,截止到当地时间下午5点,拍卖期限已到,这件礼服仍然无人问津。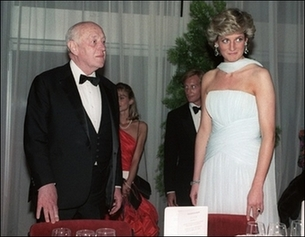 British actor Alec Guinness and Princess Diana at a gala dinner at the 40th Cannes film festival on the French riviera, in May 1987.[AFP]
A pale-blue dress worn by Princess Diana to the 1987 Cannes Film Festival failed to attract bids in an Internet auction for charity on Wednesday, just days ahead of the 10th anniversary of her death.
The silk chiffon evening gown was among 79 dresses that Diana auctioned off for charity at Christie's in New York in June 1997, two months before she died in a car crash in Paris.
The dress, a strapless bodice made of draped and tucked silk designed by Catherine Walker, is one of four of Diana's dresses owned by the WE television network and was put up for grabs on eBay 10 days ago.
However the gown, which was also worn by Diana to the 1989 London opening of "Miss Saigon", did not appear to have attracted any bids after opening offers were invited at 125,000 dollars.
As a bidding deadline expired at 5:00 pm local time (0000 GMT), zero offers had been registered.
The auction's organisers, WE TV, were not immediately available for comment.
Proceeds from the sale had been due to go to America's Promise Alliance -- a charity dedicated to helping disadvantaged children stay in school.
The WE TV network bought the dress in the 1997 auction for around 71,000 dollars. Though the gown was later appraised and valued at 275,000 dollars, experts have recently questioned its true worth.
"If we were to put the dresses up for auction, our auction estimate would be 20,000 to 40,000 dollars for each of the dresses," a representative from Christie's auction house told the Washington Post.
"The estimates are lower, in many cases, than the prices realized in 1997 because the original prices the dresses were bought at were very high."
(Agencies)
(英语点津 Linda 编辑)